After a cold a snowy weekend, followed by a very unsettled and cool first half of the week; we are finally looking forward to some nicer weather over the next few days!
Thursday-Sunday (This Weekend)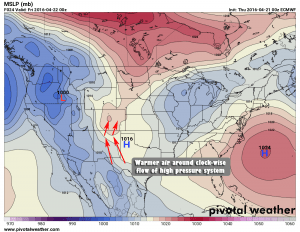 A ridge of high pressure will begin to build on Thursday allowing warmer and drier air to filter into the state from the South. This will mean that we are in for some sunny and warm days for at least a little while.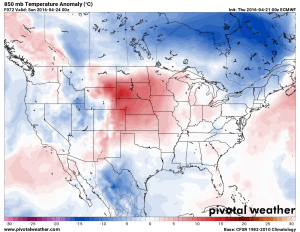 As we move into Saturday and Sunday the high pressure ridge and associated blob of warm air hangs around the central U.S. For Colorado, I would not be surprised to see some locations in Eastern Colorado flirting with high temperatures in the 80's at some point. This warm stretch should definitely help rid us of any remaining snow.
Monday April 25 - Tuesday April 26 Time frame (Storm #1)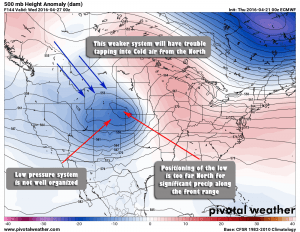 The Euro signals a change during this time period but at this time is not predicting a major snow storm, or even a major storm in general for Colorado. There are a few reasons why detailed in the image above:
This low pressure system is much less organized. It moves out of the due west, getting shredded by the mountains as it crosses the divide and re-organizes over Northeast Colorado. This storm track does not usually produce big precip. storms for us along the front range.
The positioning of the low once it re-forms is too far North so that decent upslope is not established for a decent amount of time.
Due to the weaker nature of the storm, it looks to have trouble tapping into cooler air from the North. This means any precip we do get would most likely fall as rain.
At this time, this storm looks more likely to drop rain rather than snow and doesn't look to drop a lot of precipitation in general We'll keep an eye out for any forecast changes
Friday April 29 - Monday May 2 Time frame (Storm #2)
This is still a long way out and on the very edge of our long range model's ability to forecast so there is a ton of time for this to change either way, but thought it was worth mentioning as it has caught my eye.
If we look at the very edge of the long range Euro and GFS we see a situation that sets up like this:
As we move into later in the day on Thursday April 28, we see a strong low pressure trough carving out in the Western United States. This low looks decently organized on most models at this point and is expected to take a more Southerly track before turning Northeast and moving into Southeastern Colorado. This is important because the storm will not get shredded nearly as much crossing the Southern mountains and has a decent chance of retaining more energy.
By Friday we see an interesting setup: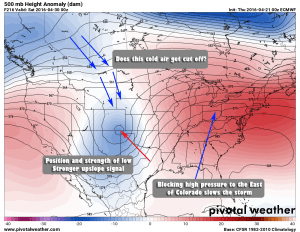 There's a few reasons this jumps out at me but there are questions with it too.
The low pressure system remains well organized as it moves into Southeastern Colorado

This position usually gives the front range decent upslope and moisture

A blocking high pressure system sets up to our East

This is the same type of feature that stalled out the low and dumped snow over Eastern Colorado with our big April snowstorm last week
If the low stalls out over the Southeast part of the state it means we will see a longer period of upslope flow, enhancing whatever preciptation may fall

Questions

Being this far out, this setup still needs to be take with a huge grain of salt. Models aren't terribly accurate this far away, especially on the edge of their range.
Does the cold air get cut off by the ridge to our West or East? If so, precipitation will most likely be rain.
This setup certainly looks similar to our big snowstorm last week, but don't take it to the bank just yet. Suffice to say, we will keep a close eye on it as we get into next week and pass along any forecast changes.
In the meantime, enjoy the warm and dry weather we get this weekend, it will be an excellent time to get out and about. Happy Thursday!