Large portions of Colorado have returned to drought status thanks in large part to our very dry winter we've had so far this year. Most areas of the state are now in at least the "abnormally dry" classification but some areas in Southwestern Colorado have been upgraded to "Moderate Drought" and "Severe Drought" levels.
For the Castle Rock area and all of the Palmer Divide, the "Abnormally Dry" classification is not surprising. The snowfall numbers for this year's snow season are very telling...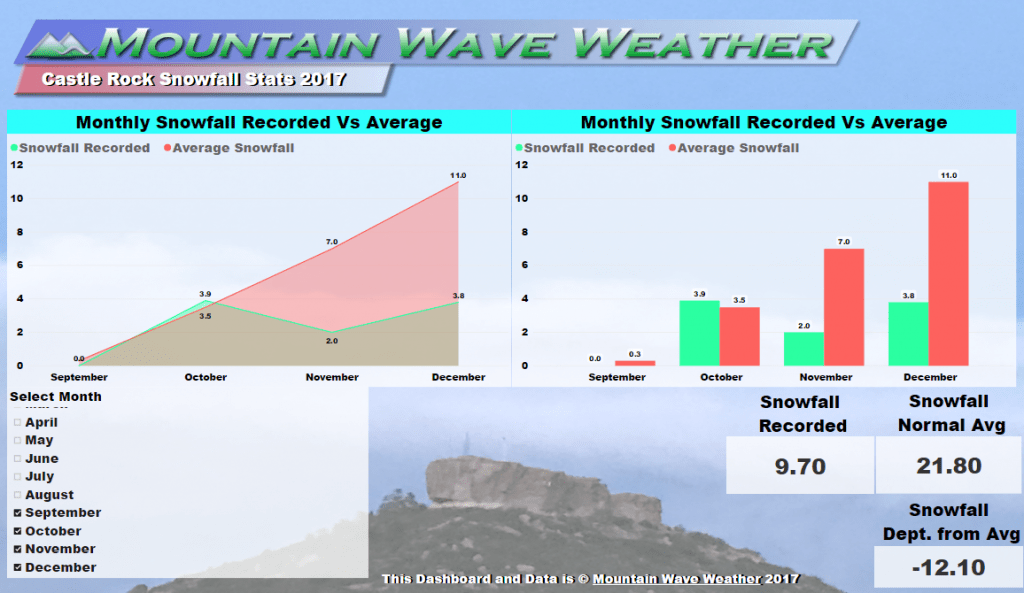 For the snow year beginning September, the Castle Rock area is over 12 inches below average on snowfall. This lack of moisture and several days of above average temperatures and strong winds have done a great job of drying things out.
Things To Remember During Drought
Droughts can be short or long term, while we have some concerns about this particular spell... there no indication as of yet that this drought will last longer term (more than a month or two). It is something we will keep an eye on though...
Fire danger will remain very high. Especially on days with warm temperatures and/or high winds. Keep this in mind if you are engaging in activities that cause sparks or open flames.
Water those trees! When it's this dry, the conditions can put considerable stress and strain on trees.
While the mountains are very dry right now, it is still quite early in the snow season up there. So as of right now, we don't have serious concerns about reservoir levels. This is another thing we will need to keep an eye on as we move into spring.
Quick Look Ahead
There's really only one good chance of snow in the next several days and the mountains will get the large majority of it. That's not to say this will significantly up the snowpack, most areas will see between 2-6 inches... and those 6 inch areas will be a bit few and far between.
There is a small chance areas just Southeast of Denver see a bit of snow on Saturday, but we expect little to no accumulation. Models have mainly been painting a bit of snowfall in and around Elbert County with little to no snow for most other areas along the front range.
We will keep an eye on the weather over the next few days, again we don't see any large snow storms on the horizon, but we will be watching a stronger storm system slated for the middle of next week to see if that materializes. Stay tuned!