Monday: Record Breaking Heat and High Fire Danger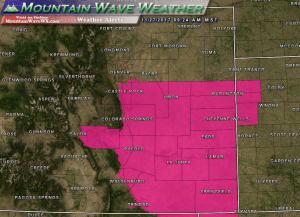 ...RED FLAG WARNING REMAINS IN EFFECT FROM 11 AM THIS MORNING TO
6 PM MST THIS EVENING FOR WIND AND LOW RELATIVE HUMIDITY FOR THE
PALMER DIVIDE INCLUDING EASTERN DOUGLAS, ELBERT AND LINCOLN
COUNTIES...


Unseasonably warm temperatures, gusty winds and low humidity will make for significant fire danger across Eastern central and Southern Colorado on Monday. Any fires that start will have favorable conditions to grow quickly and out of control.
The high pressure ridge that has brought us many days of warm and windy weather is begnning to shift Eastward with a trough moving in form the Northwest. This will change our weather pattern slightly after Monday.
A Quick Chance of Light Snow
A storm system taking shape to our West will kick out the abnormally warm weather for a few days and luckily bring a bit of moisture as well. The main bit of precipitation will move through late Monday and linger into Tuesday morning. Sadly, these Pacific Northwest troughs are not favorable for a lot of moisture along the front range of Colorado. The upslope conditions are short lived and these storm systems struggle to tap into decent moisture.
Just like the past few storms, the snowfall signal is strongest along the Palmer Divide, so don't be surprised to wake up to a bit of snow on the ground Tuesday morning. Similarly to the past few storms, don't expect much more than snowfall in the 0-2 inch range.
Tuesday - Wednesday: Seasonable but Mainly Dry
By later Tuesday and into Wednesday we see clearing conditions. Due to the ridge shifting away from Colorado, temperatures will be seasonable with highs mainly in the 50's the rest of the week. Sadly, we don't see a lot of chances of moisture for the next 7 or so days along the front range past Monday/Tuesday this week.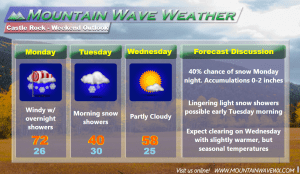 Here's a look at the next few days for Castle Rock. We don't see any major chances at significant snowfall in the near term. There are indications however, that we may be in for a larger weather pattern shift as we move into December. The shift looks short lived as models generally return to drier but still cool weather from mid-December onwards.
We will be keeping an eye on this potential weather pattern shift and have updates in the near future. Stay tuned!