A new storm system is set to impact the area beginning Monday night and lasting all the way through Wednesday during the early morning hours. Interestingly, this storm has taken a bit of a different track than our previous 3 storms, but it looks like a very similar situation will set up in terms of who sees snow and who sees rain.
The storm will move into the area during the late evening and overnight hours, initially starting as rain. The snow line is expected to drop through the night to somewhere between 5,000-6,000 feet, exactly where this sets up will dictate who sees snow and how much. Just like the past three storms, the northern part of the Palmer Divide may be looking at very minor accumulation on grassy surfaces. If the snow line migrates a bit further North to lower elevations our area could see a bit more snow.
By the time you wake up Tuesday, most areas South of Denver could be seeing decent snowfall. With the warm ground and pavement, there is still debate as to how much of this sticks. You'll notice in the snowfall accumulation forecast image I have below, the rain/snow line is very close to Castle Rock again. To me this means mainly snow accumulation on grass and not much on the roads.
---
Forecast and Impacts
The past few storms have been extremely tricky to forecast, mainly because of the temperatures and where the rain/snow line has set up. This is something models struggle with and it means you have to rely on them a bit less and start looking at other factors. The storm moving through tonight is expected to drop snow in two waves; the first round of snow occurring Monday night into Tuesday morning. The second round will occur Tuesday night into Wednesday  morning, this is why the Winter Storm Warning is for such a long period of time.
Timing
The first wave of precipitation will move in Monday evening, initially as rain
A transition from rain to snow is expected late Monday night with all snow by Tuesday morning
Clearing will occur later in the morning Tuesday and snow is expected to end by the late morning to afternoon hours
A secondary round of snow is expected Tuesday evening, overnight and into early Wedneseday morning
Snow Accumulations
Castle Rock and Northern Palmer Divide is currently forecast at 0-4 inches of snow accumulation for a storm total. This means 0-4 inches is the range of snow expected to fall for both waves that move through. Some localized areas will see higher amounts but temperatures are going to be a big issue again with this storm!

Castle Rock, Pinery, Franktown, Elizabeth, Kiowa

Areas over and near Monument hill can expect 4-8 inches of accumulation by Wednesday morning

Larkspur, Palmer Lake, Monument, Black Forest

Due to a high degree of uncertainty, these numbers may change slightly. With the setup of the last three storms we've started with conservative snowfall amounts, stay tuned for updates throughout the day Monday. We'll pass along any changes to snowfall if we see them!
Wind/Visibility
Winds look a bit breezy at times, especially on Tuesday. Visibiltiy may become and issue in some wind prone areas.
Impacts
The Tuesday morning commute will be something to keep an eye on. Should the temperatures dip enough and should we get pockets of heavier snowfall with higher snowfall rates; those areas could be dealing with slushy roads.
Areas South of Castle Rock over Monument Hill and in the foothills can expect to see higher snow amounts and intensities so expect moderate travel impacts in those areas.
At this time, travel impacts look low to moderate Tuesday and Wednesday mornings for Castle Rock and areas to the North. Areas to the South of Castle Rock could see moderate impacts.
Again, this storm is looking relatively minor at this point for most areas. The Winter Storm Warning was most likely issued because those areas along the Palmer Divide will see pockets of heavy snow overnight, but how much sticks is still up for debate.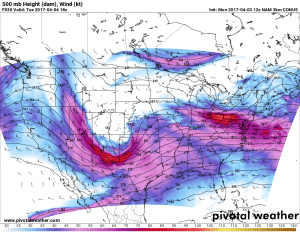 When we look at the pattern with this storm, it's just not very impressive. The low is a bit less organized than we'd like to see and is still a bit far South for us. This storm looks less organized than the past 3 but because it has colder air associated with it, there is a chance it could surprise us... odds look low for that right now though.
We will continue to watch this storm as it evolves through the day on Monday and if it looks to be changing for more or less snowfall, we will pass along those updates!