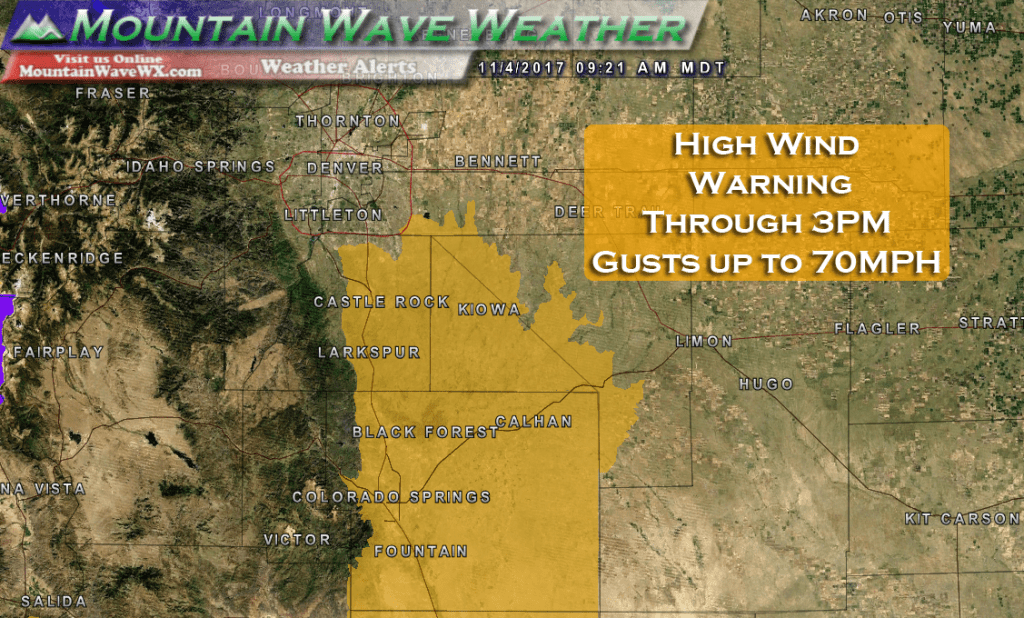 If you've been outside this morning you've no doubt noticed the wind. This was in the discussion for the NWS last night that winds could accelerate to high levels today but this morning it was enough for the NWS to pull the trigger on a high wind warning.
Here's the details on the Warning
High Wind Warning

URGENT - WEATHER MESSAGE
National Weather Service Denver/Boulder CO
502 AM MDT Sat Nov 4 2017

...STRONG WINDS ON THE PALMER DIVIDE TODAY...

.Strong southwest winds aloft over Colorado today are expected to
mix to the surface over the Palmer Divide region this morning and
continue through much of the afternoon. Strong crosswinds could
make travel difficult along I-25 and across eastern Douglas and
western Elbert County roadways. Areas of blowing dust will also
be possible. Trees and branches may also be blown down by the
strong winds. Winds are expected to begin diminishing after about
3 PM MDT.

COZ041-041915-
/O.NEW.KBOU.HW.W.0012.171104T1200Z-171104T2100Z/
Elbert/Central and East Douglas Counties Above 6000 Feet-
Including the cities of Castle Rock, Elbert, Fondis, Kiowa,
and Larkspur
502 AM MDT Sat Nov 4 2017

...HIGH WIND WARNING IN EFFECT UNTIL 3 PM MDT THIS AFTERNOON...

The National Weather Service in Denver has issued a High Wind
Warning, which is in effect until 3 PM MDT this afternoon.

* TIMING...Winds will increase after 8 AM MDT and continue into
  the mid-afternoon. Winds will begin diminishing by late
  afternoon.

* WINDS...Southwest winds increasing to 35 to 45 mph with gusts
  of 60 to 70 mph at times.

* IMPACTS...Travel on I-25 and other roadways may be difficult due
  to strong crosswinds and restricted visibilities in blowing
  dust. Trees and branches may break in the strong winds.

PRECAUTIONARY/PREPAREDNESS ACTIONS...

A High Wind Warning means a hazardous high wind event is expected
or occurring. Sustained wind speeds of at least 40 mph or gusts
of 58 mph or more can lead to property damage.



Mountain Wave Weather Network
We are working on some exciting new stuff for the new year but we'll go ahead and test one of our new items out here since it deals with reported wind speeds in Castle Rock and along the Palmer Divide.
Here's the latest high wind gusts today in and around Castle Rock:
Winds will die down in the evening hours but for now expect anything not tied down to blow around a bit. Additionally, travel on I-25 and into the mountains will be difficult due to the high winds.