After a week packed full of everything from hail, tornadoes, torrential rain and a peak of sunshine here and there, I'm happy to report that things look to be winding down a bit over the next few days.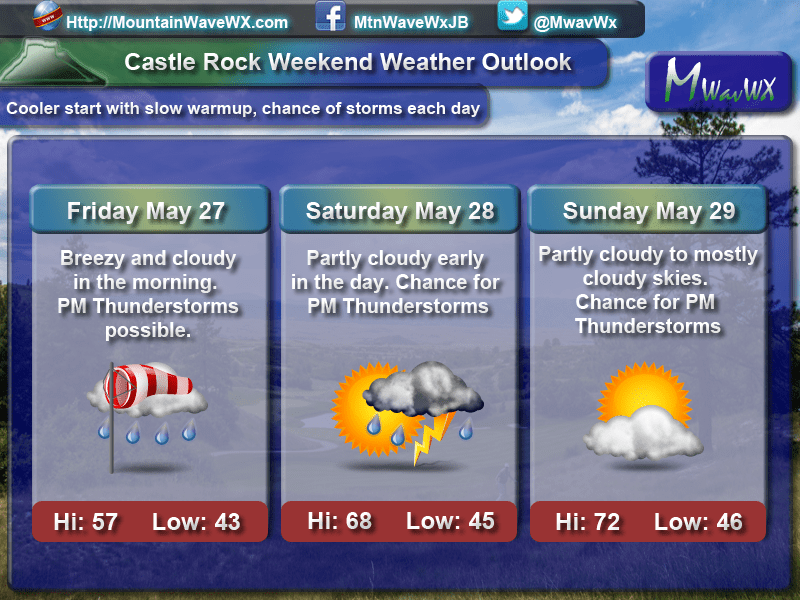 The front that passed through Thursday left cooler and unsettled air in its wake. The good news is the limited heating means it is unlikely we see any severe storms this weekend, but with so much moisture left in the air we had to keep a chance of thunderstorms in the forecast for every day this weekend.
The weather will overall be calmer, but do plan on some areas getting storms mainly in the afternoon hours over the next 3 days.
Colorado Weekend Forecast
I haven't had time to make proper graphics for this part of the forecast but they are coming soon. This is a forecast for areas of the state that are not in Castle Rock, but I have heard from or spoken to people who follow this site in those areas. If you don't live in one of these areas but would like me to mention your area in forecasts, outlooks or generally keep an eye out for weather in an area, let me know!
Brighton

Friday: 59/43 - Decent chance for rain and storms in PM hours
Saturday: 73/47 - Partly cloudy, slight chance (10-20%) of afternoon storms
Sunday: 76/50 - Partly cloudy to mostly sunny

Limon

Friday: 54/40 - Cloudy with thunderstorms ending by evening
Saturday: 70/43 - Partly cloudy with a slight chance of PM storms
Sunday: 74/46 - Partly cloudy

Winter Park/Fraser

Friday: 48/34 - Cloudy with thunderstorms in the afternoon. Higher elevations may see snowfall overnight
Saturday: 56/35 - Partly to mostly cloudy
Sunday : 58/38 - Cloudy and cool with chances for rain throughout the day

Woodland Park

Friday: 48/35 - Cloudy with thunderstorms, slight chance of rain/snow mix in overnight hours
Saturday: 60/41 - Partly cloudy early in the day with scattered thunderstorms by the afternoon
Sunday 64/41 - Mostly cloudy with thunderstorms throughout the day