Dangerous Weather Conditions Possible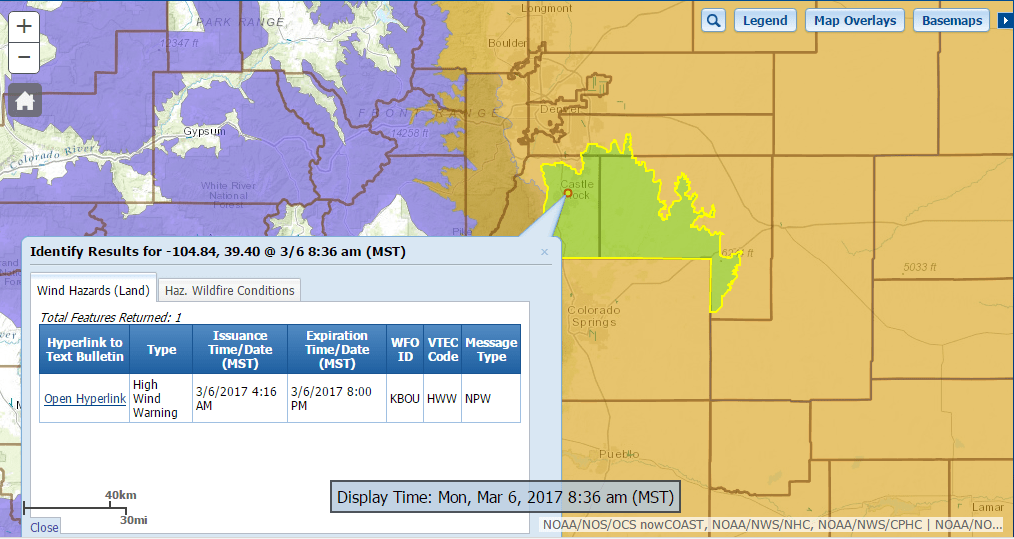 High Wind Warning in Effect Until 6PM
A High Wind Warning means a hazardous high wind event is expected
or occurring. Residents should secure loose objects and prepare
for possible power outages. Travelers should be alert for rapidly
changing visibility. Drivers of lightweight and high profile
vehicles should also consider delaying travel until winds are
lighter on Monday night or Tuesday.


Red Flag Warning in Effect Until 6PM
A Red Flag Warning means that critical fire weather conditions
are either occurring now....or will shortly. A combination of
strong winds...low relative humidity...and warm temperatures can
contribute to extreme fire behavior.


High Wind Watch in Effect Tuesday March 7, Until 5PM
A High Wind Watch means there is the potential for a hazardous
high wind event. Sustained winds of at least 40 mph...or gusts of
75 mph or stronger may occur. Continue to monitor the latest
forecasts.


---
Synopsis
A strong cold front moving through Colorado combined with a surface low to our Northeast in Nebraska and a surface high pressure in the mountains of Colorado will make for dangerous wind and fire conditions today. The strong pressure gradient will make for strong Southwest and Westerly winds sustained between 40-50MPH with gusts possible over 60-70MPH.
The HRRR shows winds along the front range gusting through a good portion of the day. I've heard reports it has been rather windy in Castle Rock but the most affected areas will be North of Denver and South of Colorado springs were winds may gust to 70-80 MPH. The HRRR model above stays pretty consistent with winds through the morning and afternoon hours, with winds subsiding a bit by later this afternoon and into the evening hours.
Additionally the 500mb (mid to upper levels of the atmosphere) shows the jet stream just off to our South. The region we are in is often called the "left exit region" and could support enough lift to get a few quick snow showers from time to time... mainly in the morning hours. So, don't be surprised to see snow flakes here and there.
---
High Wind May Continue Tuesday
As the wind dies down on Monday evening, don't be fooled! All indications are that the wind will pick back up on Tuesday but not with quite the intensity or coverage that it has on Monday. The model above screams strong downslope wind event to me, notice the stronger red colors right along the foothills of the front range. This is telling of the strong westerly winds coming down the mountains and crashing onto the plains.
Either way, expect windy conditions again on Tuesday as a High Wind Watch and Fire Weather Watch have already been issued for that time.
Hate to say it folks, but this looks like the dominant weather pattern for the next 7-10 days at least. The image above shows the expected snowfall through March 16, 2017 and it doesn't look good for areas East of the divide. The 0.1 inch forecast is for today mainly, with no additional snowfall after that for the next week.
I'll have a longer update up soon on what the rest of March is looking like and why, but suffice to say for now that it is looking warm and dry. There is no reason to panic about our wet season just yet as it has only begun but we will start to get more concerned if we see this dry signal last into April. We'll keep an eye on it!