Scorching September
We've all heard from our local TV stations about how hot it's been in Denver.
We've seen 8-plus consecutive days in the 90's for Denver, this is unusual and helps demonstrate how warm many areas along the front range have been. Some areas of the far Eastern plains even reached 100 degrees yesterday (September 18.)
I decided to dig up the data for Castle Rock and while I didn't expect our weather data to show anything different from Denver... it was surprising just how far above average we've been this month.
You can see in the graphic the charts all skew well above average for daily high, daily low and daily mean (average of daily high and low) temperatures. If the month ended today we would be an astounding 4.56 degrees above the 30 year average. Whether you're a serious weather nerd or not, it's not hard to understand that 4.56 degrees above average for the month is quite notable.
Fear Not! Things May Be Changing!
For the past several weeks a large ridge of high pressure has been dominating our weather pattern. This means hot air moving in from the West and Southwest and little to no storms in the area as our moisture gets shut off. The good news is we see some changes and the high pressure ridge looks to be shifting out of the area.
As the high pressure ridge moves East it will allow cooler air to spill in from Canada, thanks to low pressure troughs finally having the ability to establish to our Northwest and move across Colorado. This means more cold fronts will begin to show up in our future!
In fact, we will begin to cool down starting on Thursday! Here's today's forecast high temperatures and tomorrows (Thursday)
What's All This I Hear About Snow in Denver Next Week?
After the cool front moves through this week and cools our temperatures a bit, models are hinting at a stronger front moving through next week. I'd caution folks about reading too much into this at the moment as models are jumping around a lot on next week... as we all know models aren't great at picking out details more than about 3-5 days out.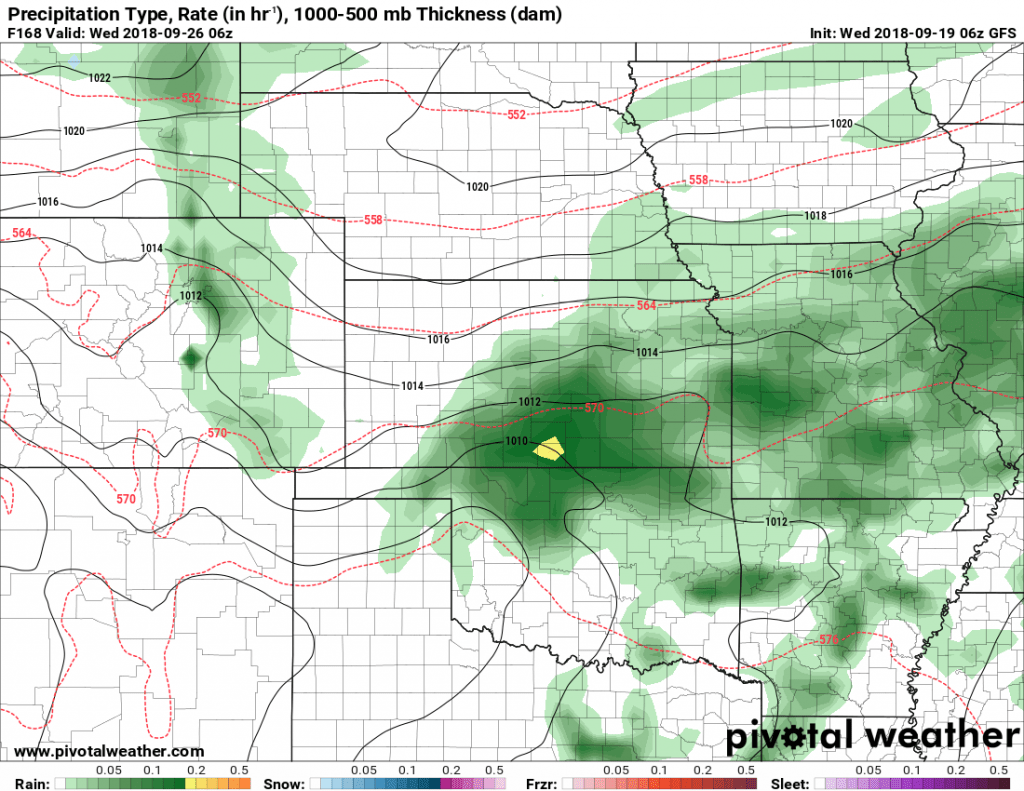 I pulled the specific time-frame the TV stations were ranting and raving about yesterday and saw that even as of this morning this particular model had shifted away from snow back to an all rain solution along the front range. There is still plenty of time for this to change and I fully expect it to wobble back and forth, but looking at the weather setup beyond just this one model... snow doesn't look likely at this time.
Not to say it isn't possible, the chance of snow isn't 0... but the probability is a very low percentage. I'd say less than 5% with the data we are seeing now. Still, we will keep an eye on it over the next few days just in case things change.
Takeaways for Weather Over the Next 5-7 Days
Record setting heat will come to an end after Wednesday
Overall weather pattern shift means we will start to see more seasonable (read cooler) temperatures
A stronger cold front and associated storm system may bring us a bit of moisture towards the middle of next week

Yes, snow is possible... but very unlikely at this time

Beware TV Stations and Social Media sources that hype up snow next week... it's way too early to tell, it's unlikely and it's ratings season!