Rain changed over to snow this morning and some areas are seeing quick burst of accumulation. The commute could be a bit slick in areas especially South of Denver along the higher elevations of the Palmer Divide.
Includes the Castle Rock area and Palmer Divide.
The low pressure system is currently centered over Southeastern Colorado and moving quickly off to the East. Expect snow to linger through the morning hours and will come to an end as the storm lifts to the East.
---
Tuesday Forecast Remains on Track
Models have intensified the storm a bit so light to moderate snow will be possible in the morning hours. At this time, the best chance for snow looks to be between the  hours of 6AM-12PM but expect snow to linger a bit outside those times depending on the speed of the storm.
Model agreement at this time is on 2-4 inches of total snowfall by Tuesday afternoon mainly along the Palmer Divide. Areas between Lone Tree and Monument will be the ones that need the closest watching. Heavier snowfall could mean the roads ice up at some point making for tricky travel conditions in the morning hours on Tuesday.
Snow looks to end in the late morning to early afternoon hours on Tuesday. Clearing will be possible later in the day.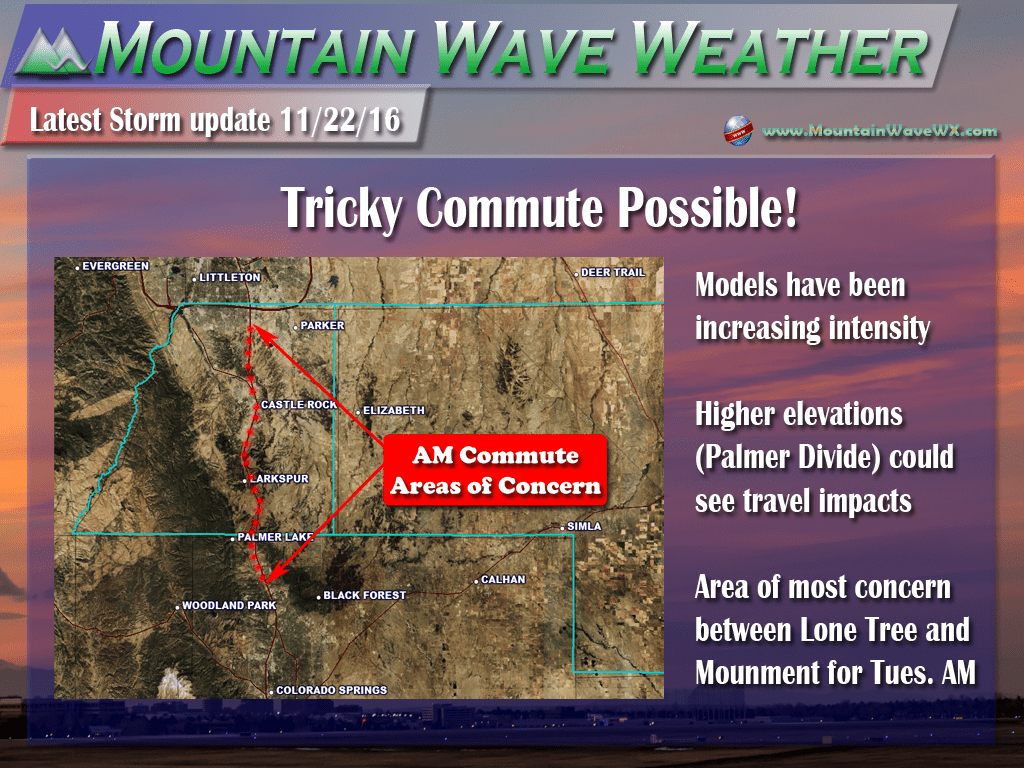 Keep an eye for changing road conditions between Lone Tree and Monument for the rest of Tuesday morning!