After months of "broken record" weather forecasts with not much to talk about, things look to get a bit more interesting this week for Colorado. We will start off the week with no big changes, temperatures in the 60's and 70's (which is near record levels for the Castle Rock area.) The big change comes into Thursday and Friday.
A strong cold front will begin to affect the area in the early morning hours of Thursday and with it comes a small chance for precipitation. Friday will see a clearing trend but the cooler air will linger just a bit longer, expect highs in the low to mid 40's on both Thursday and Friday. The big story will be the nighttime temperatures, those will fall into the low to mid 20's for Thursday and Friday. This will be the coolest air we've seen in quite some time, so b prepared for a bit of temperature shock later this week!
---
Snowfall Chances
I've discussed this storm in a bit of detail earlier last week and my position on it has not changed too much as of right now. Most models still hold the main energy too far North to bring a large amount of precipitation into Colorado.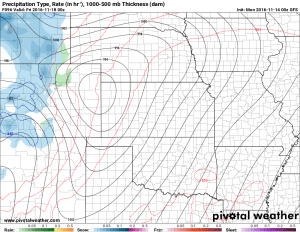 Interestingly, the image above (GFS run from yesterday) shows the low well into Northeastern Colorado, this would keep a large amount of the moisture away from the front range of Colorado and confine it to the mountains. Take a look at the image below, it's from the GFS run this morning: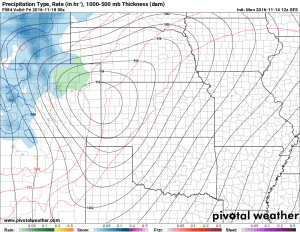 Notice it has the low centered a bit further South on Thursday night into Friday morning bringing a quick shot of moisture to the front range corridor. Especially as you move South into the higher elevation of the Palmer Divide some of the rain may indeed change to snow.
While we are still far enough out that we have to rely on the longer range models (that can be a bit more inaccurate) the signal for snowfall has come and gone. This means there is still considerable uncertainty on the storm's track and intensity. At this time I still think accumulating snow is unlikely the signals tell me that there is a possibility that we do see snow in our area Thursday night. So I can't rule snowfall completely out in my forecast.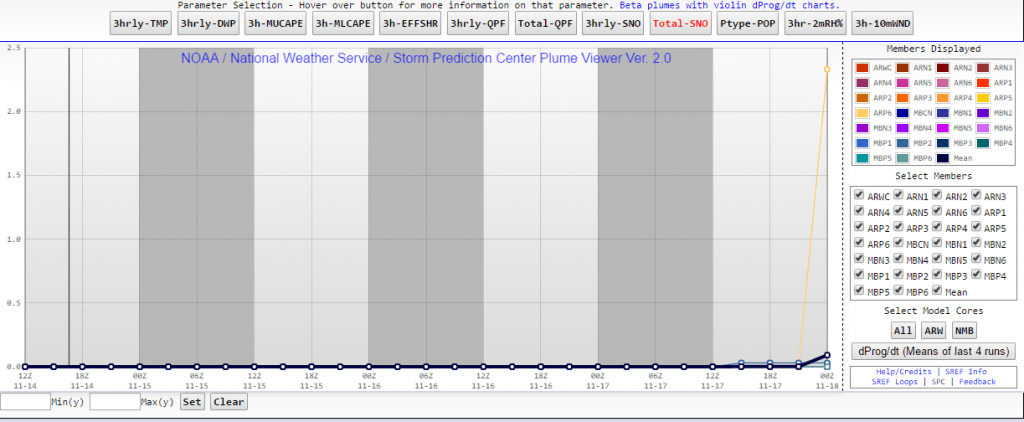 For what it's worth, the SREF Ensembles show a tiny blip at the end of its range. Some of these models show 2 inches of snow, a large majority of them show zero snowfall, so again this is something we'll have to keep an eye on.
Chance for snow with this storm system as of today: 20-40% chance
(increased just slightly due to model guidance, but still a low chance)
If it should snow, accumulation: 0-1 inches
(This shows no change, any snowfall that accumulates will be less than 1 inch with the latest data in)
---
Just like many potential snowfall systems in Colorado we just need more data to get a better idea of what this thing will do. We should start to see the medium and short term models come into focus in the next day or two which will give us a lot more data to look at.
In the meantime, get your winter-ization stuff done this week by Wednesday, it will be very cold Thursday and Friday and could be looking at our first Hard Freeze on one of those two nights!