Colorado's ski resorts have had a boost this fall with a couple of early season snowfalls and cold temperatures. Arapahoe Basin announced they will be opening for the 2016-2017 on Friday October 21, marking the official start of Colorado's Ski Season! We have also learned that Loveland plans to open in the next week or so!
Colorado Ski Area Opening Dates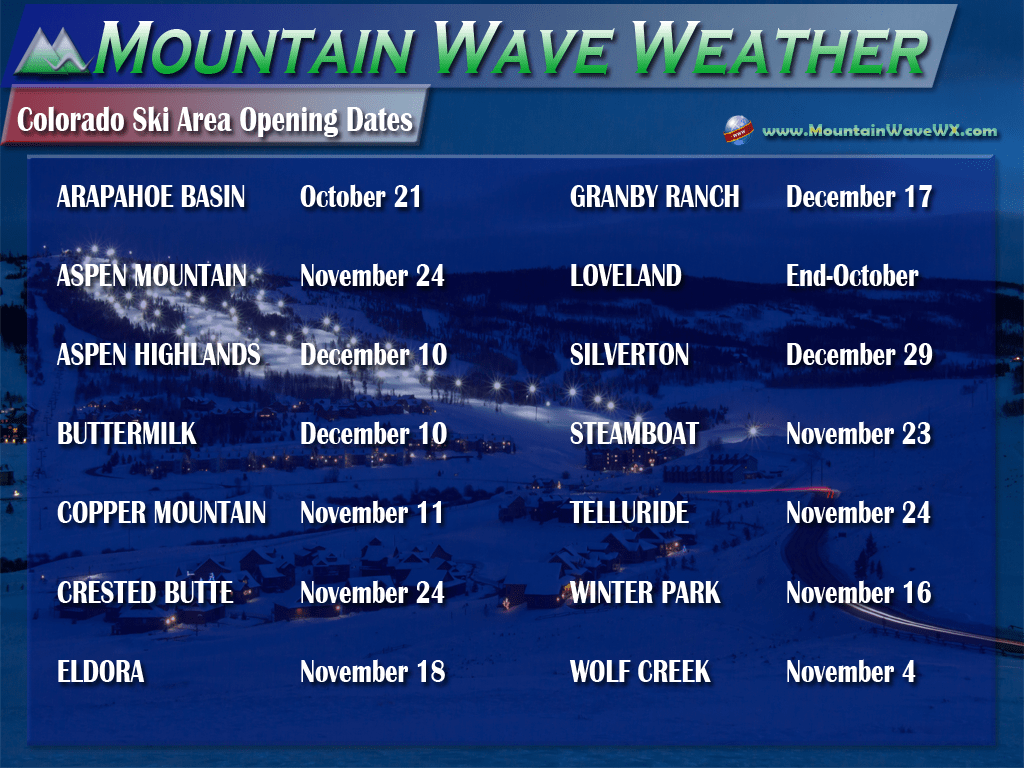 ---
How Snow-Making Works
It's no surprise that weather plays a huge role in the ski industry. Each mountain has to keep track of temperature, dewpoint, humidity, winds and a whole host of weather details. These factors can play a role in which runs to open, how soon, what the condition of the snow will be and how safe everything is. Due to the terrain found in and around many ski areas, avalanche forecasting is also big business, this comes into play as we get more into the heart of ski season.
As we enter the opening period of ski season, weather plays an important role as ski areas race to open. Due to variability of weather conditions in the early season, we can't always guarantee that resorts will have enough snow to open at a set time each year. This is where snow-making comes in to play. If resorts have a way to create their own snow, it can help them open consistently around the same time each year, but artificial snow can also be fine-tuned to create a base more resistant to wind and melting.
Step 1: Water and Lots of It!
At the end of the day, snow whether artificial or natural all comes from the same thing; water! Many ski areas have reservoirs located around the mountain where they store water throughout the warm season. These reservoirs are where the snow-making process starts!
Creating artificial snow for use in a ski areas takes, enormous amounts of water. According to our friends at SMI Snowmakers (a company that makes snow-making equipment) it can take ,"75,000 gallons (285,000 liters) of water to create a 6-inch blanket of snow covering a 200x200-foot area (61x61 meters)." Most snow-making systems can convert water into snow at a rate of 5,000-10,000 gallons per minute. To put that into perspective, an average household can use 3,000-5,000 gallons per month of water!
Step 2: Moving the Water and Adding Air
The next step involves two parts; moving the water from the storage reservoir to the hill  and making compressed air to be used in the snow-making process. Both steps require the use of pumps and compressors located at various points on the ski hill.
As you ski down the hill you may notice buildings scattered in the trees, if you are in the early season you may notice the loud noise coming form them as well.
These buildings house the pumping equipment to move the water up the mountain and also the large air compressors used to make the snow.
The air and water are put into separate pipes that move up the mountain, when they arrive at difference faucets or spigots up on the hill, we have two of the three ingredients available to start making snow.
Step 3: Water, Air and Meteorology!
At this point we have water and compressed air, 2 of the three ingredients needed. The last ingredient is the weather! For good snow-making, mother nature has to work with us a bit. Just because you have a cold night, doesn't mean it's necessarily a good night for making snow.
To understand this, we need to use some weather terminology. The temperature you see on your thermometer is often called the "Dry Bulb" temperature. We use another temperature called "wet bulb" when talking about snow-making and snow conditions; this is the measure of the dry bulb temperature and the humidity. It is important to take into account the temperature and moisture in the air when snow-making as it can determine how much snow can be made efficiently and the quality of the snow.
I won't get too technical with all of this but there's a nifty article that explains the freezing process of water and how it works. "Liquid or solid water cools itself by evaporating some water as water vapor. This releases heat, and so lowers the energy level in the water. When there is more water vapor in the atmosphere, water or snow can't evaporate as much because the air is already saturated with water to a high degree. Consequently, water cools more slowly when the humidity is high, and more quickly when the humidity is low." (Source: HowStuffWorks.com)
We can use a handy chart to determine if the conditions will warrant good snow, marginal snow, or bad snow: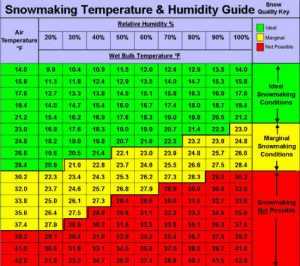 You can see, if the humidity is low enough marginal quality snow can be made all the way up to about 38 degrees Fahrenheit. If the humidity gets too high, snow-making can suffer down to temperatures of 23 degrees. This explains why ski areas may not make snow when it is actually snowing. In Colorado, large storms systems can hit the mountains and bring in higher humidity, this can make it tougher to make artificial snow. In that case it's best just to let mother nature handle it!
Step 4: Putting It All Together and Snow Guns
Once we have the water, air and weather all cooperating there's one thing left to do... make snow! As you ski down the mountains you may see snow-making equipment scattered around. Snow guns or towers are used to combine the air and water and shoot it out onto the ski run. There are a whole host of different types of snow guns and towers, but I'll highlight a couple I commonly see in Colorado:
Snow Lances (towers)
These metal poles can often be found at the sides or bottoms of ski runs. They require both compressed air and water to operate. As the water and air are forced into the tube, they are shot out of the top. As the water hits the atmosphere it freezes creating the artificial snow we see. The compressed air, in addition to aiding the water in freezing, also helps disperse the snow across the run.
These types of snow-making equipment are nice because they don't require power to be run up on the mountain. However, because they use such a large amount of compressed air, they usually require more power from generators at pump houses and air houses. They are also known to make lower quality snow due to the way the air and water is mixed.
Fan Guns
Fan guns usually have a compressor built in and only require water and electricity. This makes them nice to have in areas where compressed air is hard to come by, but they do tend to use quite a bit of power. They are also handy as they can be moved around easily (if they're not tower mounted) and the quality of snow tends to be better from them.
You may notice a lot of variations on these two types of snow-makers as well, you can see a host of different types at Colorado's ski areas!
---
I hope you all enjoy a brief look at what goes into snow-making. Colorado is an excellent place to make artificial snow due to its low temperatures and low humidity in the mountains. This allows us to make good quality snow at earlier points in the year than many places around the United States. Now, get out there and enjoy those hills!