Let's face it, the snow season for Colorado's high country started miserably this year. We had little to no snow pack going for us through all of October and a large chunk of November. These are valuables weeks for the mountains to begin collecting snow pack and ski areas to start making snow so that they may open. One would think that such a late start to our snow season would set the snow pack back for the entire year and that it may not be a good year to take a trip to Colorado for skiing, snowmobiling or any assortment of snow-related activities. We at Mountain Wave Weather have not been too concerned with that this year, we'll tell you why!
---
November's Snow Was Bad
Many folks were concerned when we reached mid/late November and we saw the total snow depth in the mountains in many areas at or near 0 inches. A combination of much warmer than average temperatures and a storm track steering most systems to the North was to blame.
A blob of high pressure anchored itself over the Western U.S and many areas experienced record heat and little to no moisture throughout Colorado. As ski areas had to push back their opening dates as their machine made snow melted, a lot of gloom and doom was spread around Colorado.
---
Is It Time to Panic? (A Note About Hype)
The local news certainly seemed to think so. I often harp on the local news stations and newspapers as they tend to make things seem worse than they are, mainly because they need the ratings to satisfy their investors and advertisers.

I'm especially not a big fan of The Denver Post as they tend to hype things up and make a lot of assumptions about the weather. Often they don't even consult a meteorologist for their weather stories... ugh!
Beware social media sites, newspapers and sometimes local TV stations. They can often be great for short-range weather coverage (think tornadoes, snowstorms, hail, etc...) but when it comes to longer range or when the weather is just nice out and their clicks or views are slow, they tend to embellish things.
---
Our Answer: Not Time To Panic!
It is absolutely not time to panic about Colorado's snow season in the high country. As we moved into fall we began to see the ENSO shift into a La Nina pattern, as soon as I saw this a lot of my fears were assuaged.
La Nina patterns are often (not always) very generous to snow for the mountain areas, especially the Northern and sometimes central mountains. If you take a look back at the last few La Nina events we've had in Colorado, the Northern mountains have finished average to above average to well above average during these patterns. The bad news is that the Eastern Plains usually end up with a much drier winter and Southeastern Colorado can suffer from especially dry conditions.
Our last formidable La Nina event was the 2010-2011 season. You can see from the image above, many mountain areas finished well over 100% of normal and some areas even saw 200% of normal. This means lots of snow! However, the Eastern Plains all finished well below normal, in some cases only 50% of average was found in and around Denver and the Palmer Divide. Some of the Southeastern areas of the state were between 20-50% of average.
---
Our Prediction: Ski Areas with Great Snow This Year
Keep a special eye out on these ski areas to have the potential for above average snow by the end of the season:
Steamboat (La Nina years are almost always awesome for these guys...)
Winter Park (Being right on the divide has it's perks, strong Northwesterly flow means upslope at Winter Park all season long!)
Ski Granby Ranch (Farther away from the divide and lower elevation but still close enough to get a benefit from orographic lift AKA upslope and the storm track.)
Arapahoe Basin (Right on the west side of the divide, will benefit from upslope and storm track.)
The following ski areas should have average to slightly above average snow by season's end:
Loveland (Being right on the divide is good but a slight disadvantage for being on the East side. Either way I think Loveland will have a good snow year overall.)
Breckenridge (Terrain and close proximity to the divide will help!)
Keystone (Terrain and close proximity to the divide will help!)
Copper Mountain (Copper's array of large mountains and favorable upslope conditions will finish it off with a decent snow year.)
Vail (A bit further away but the Westerly/Northwesterly storm track will bring plenty of snow to the area)
Aspen (Should finish off with around average snowfall, this area can be a bit trickier to predict as it's snow largely will depend on how the storm track sets up.)
The rest of the Central and Southern mountains can go either way. Some La Ninas are kind to those areas and some are not. So far they've started off decently but my concern is if enough storms can dig far South enough to keep them going the rest of the year.
---
Things Are Already Looking Up! Get Out There and Ski!
The main thing to remember here is despite all the doom and gloom from the local media, there is a very poor correlation to early season snowfall and how the snowpack turns out at the end of the year. In my own personal experience, I can recall several season where we had extremely warm and dry falls only to be shredding in 100-150% of average snow by February or March.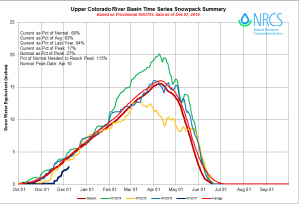 So while we have catching up to do, I'm not worried about snow in the high country this year, especially areas North of I-70. I'm much more concerned with how dry the areas East of the Divide end up this year. We'll discuss this in a later article, have a great weekend!Ski