The Storm Prediction Center has issued an outlook including the front range of Colorado with a Marginal risk of severe weather today. The setup today is very similar to yesterday with a high pressure ridge (usually meaning good weather) being undercut by a weak low level trough moving through from the West.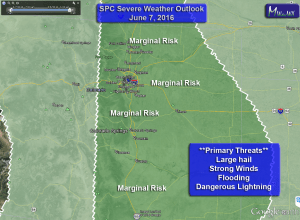 Primary Threats
Due to today's weak winds aloft, these storms will most likely not move very quickly, that combined with moisture at the surface (you'll notice it feels a bit muggy this morning) and the strong instability that will be created by afternoon heating, the main threats will be:
Hail

Some storms may have larger hail that will cause them to be severe

Wind

Due to the high based nature of the storms, strong gusty winds and microbursts are possible

Lightning

These storms will be capable of a lot of lightning, keep an eye out!

Flooding

Steering winds aloft are weak today, just as they were yesterday. This means storms may park over an area and dump large amounts of rain.
Timing
Thunderstorm initiation

Storm will begin to build over the mountains around 12PM
You will notice the clouds popping up over the higher terrain around this time

Front Range Severe Storm Window

Most models have these storms affecting the front range between 3-6PM
This will be the time frame where strong or severe storms will be most likely

Eastern/Northeastern Plains Severe Storm Window

Storms that stay strong enough to move out onto the plains will affect those areas between 5-9PM
What to Do/Expect Ahead of Today's Storms
Be prepared to move indoors if you are outside and storms begin to form
If you hear thunder, you can be struck by lightning, don't wait until it's too late!
Take actions to protect property that may be damaged by hail. (cars, plants, etc...)
Keep an eye on local forecasts throughout the day, don't be caught off gaurd!
Do not attempt to drive through flooded roadways!
Stay tuned with us here or wherever your favorite, reliable weather source is through the day for weather and forecast updates.