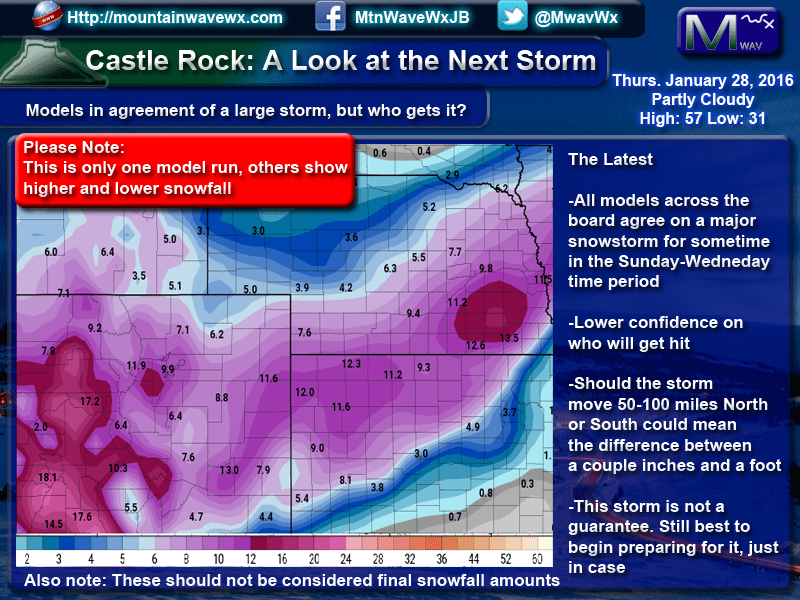 Models across the board are in agreement on a large winter storm set to move into the Western U.S. I will admit, it is unusual to see them all pretty close to each other this far out from a storm, however it does happen from time to time. At this time, our confidence is high that some area of the Western and Midwestern U.S. will see a significant storm.
The big question and one the models don't quite agree on at the moment is where it hits and how fast it moves. In Colorado and especially along the front range, this means everything. A wobble in where the storm sets up can mean the difference between a 2-4 inch snowstorm and a 15-20 inch snowstorm.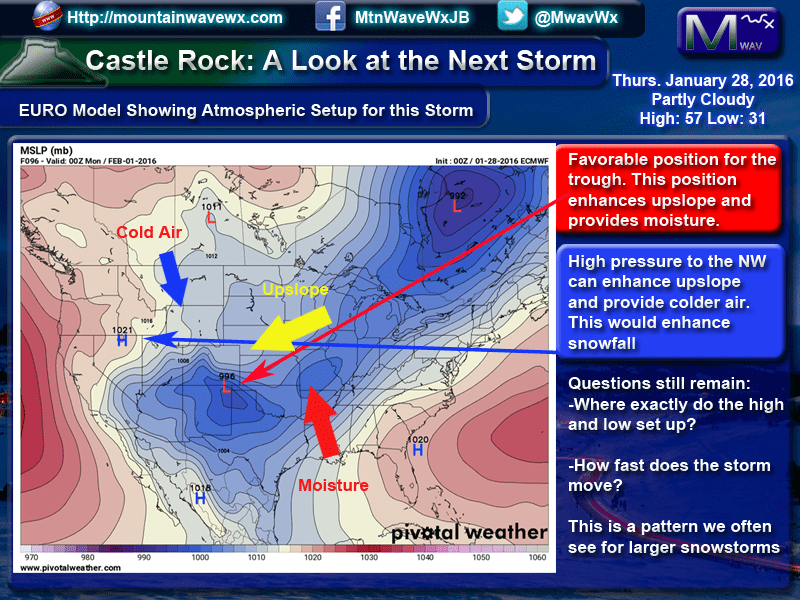 Let me clear, this is a setup we look for in large winter storms to affect the front range of Colorado, the ingredients are there. That being said, everything has to come together perfectly for this system to produce over Colorado. As you can see from the image above, I have outlined some of these features:
The low pressure system is expected to set up over Southeastern Colorado. This position allows the system to draw ample amounts of moisture from the gulf into Colorado. The counter-clockwise turn of the low allows winds to shift to the East or Northeast, providing upslope and enhancing snowfall
A high pressure system to the Northwest pulls colder air in from Canada. This is imperative to snowfall totals as the colder it is, the higher the snowfall will generally be. One other thing it can possible do, depending on it's position; the clockwise turning winds around this feature can enhance the upslope flow coming off of the low to the Southeast.
Clearly the ingredients are there for this storm. We still have a few questions we need answered:
Where do the low and high set up? This is crucial, any wobble north or south of these features can be the difference between a monster snowstorm and a total bust!
How quickly does this system move? To see larger snowfall totals we would like that High Pressure system off the coast of Florida to block or stall our system for awhile. This would allow a longer period of upslope and snowfall.
Be Prepared!
This storm is about 50/50 right now on whether it will affect areas along the front range in Colorado. I am in no way saying this storm will hit us yet, but my concern is that if it does, it may be a doozy! Thursday and Friday are a great day to begin preparing;
If you need anything from the grocery store, Thursday and Friday will be your days to go. With the media already hyping this storm, I can see a lot of "store runners" out on Saturday and Sunday. Get there early and get your shopping done before the shelves are bear.
Get any medications filled you need, again Saturday and Sunday are going to be rough days to be at a grocery store.
Fill up the gas tanks in your cars, never know if/when this might come in handy.
Get the shovels and snowblowers ready!
This forecast will shift quite a bit over the next few days. There is no guarantee Denver will see anything from this storm just yet, but we need to be prepared because if it does hit the Denver area, it could be significant.
Stay tuned to our website and/or Facebook page, we will have updates on the model data and pass along any Watches or Warnings as they become available.