As many of you have noticed February 2017 has been beyond warm and dry. In fact this month may go into the record books as one of the warmest and possibly one of the driest since records began.
---
Quick February 2017 Stats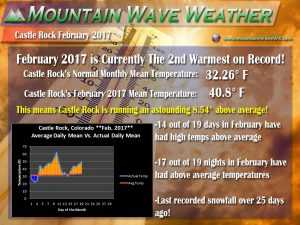 Official temperature records are kept in Denver only so we will use that, but if you look at how warm it has been this month compared to history, February 2017 is on track to finish as the 1st or 2nd warmest ever. As of today it sits at #2 but this week's above average temperatures have the potential to push it to number 1. There is a chance it doesn't quite make it to first due to a storm late in the week that looks to significantly drop our temperatures.
For the Castle Rock area we have experienced the same trend that Denver has. Our normal monthly mean temperature at this point in the month (monthly mean is the average of daytime and nighttime temperatures for the month to this point) is 32.26 degrees. By our measurement, the current monthly mean for Castle Rock as of this posting is 40.8 degrees which means we are currently 8.54 degrees above average! This is a big number!
An Interesting Note About Castle Rock's Overnight Lows for February 2017
The most interesting statistic by far this month so far has been the incredibly warm nighttime temperatures. This is a huge reason as to why our mean temperatures are so high. Strong downsloping events due to our prevailing weather pattern combined with warm air in the area has surged our nighttime lows. In some cases the low temperatures have been 25-35 degrees above average!
---
A Look At The Rest of the Week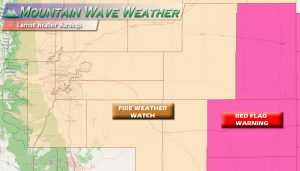 We will continue to see above average temperatures for the first half of the week. This means fire danger will be very high and appropriate watches and warnings are up by the NWS for those conditions.
By late Wednesday into Thursday and Friday we will look for a BIG CHANGE! A storm system moving through the area will drop temperatures significantly and bring  a chance of snow to the area. Initial estimates from models are anywhere between 0 - 8 inches at this time for the Palmer Divide region but uncertainty is still quite high.
While the amount of snow (if any) we get is still a bit up in the air, one thing we are pretty sure of is that winter will return for most of Colorado later in the week. Temperatures will be much colder than we've seen in the past 30 days and the possibility for snow will be there.
We'll keep an eye on that storm and have more updates through the week, stay tuned!