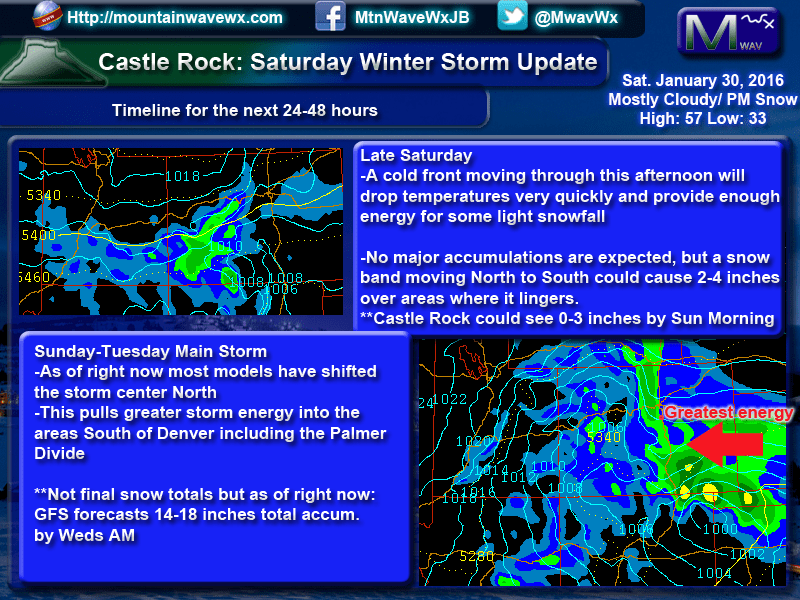 Model guidance is beginning to agree that a large storm system will affect Colorado between Sunday night and Tuesday night. Each model across the board increased overall snowfall accumulations with last night's run,  mainly due to a northward shift by several of these models. The biggest question still remaining is the final placement of the storm center. While many of these models have this in the same area, some of them do not which still creates uncertainty in the forecast.
What we know for sure as of this morning:
Nearly all models are in agreement that Colorado and especially the front range will see snow during the Sunday - Tuesday night period
The mountains and foothills will see heavy snow
Winds of 15-25 knots (17-28 mph) will be possible during the storm along the front range, this could create considerable blowing and drifting of snow
Front range could see periods of heavy snow and wind, especially later in the day Monday and overnight into Tuesday
Most models show between 10-25 inches total snowfall for this storm. Please keep in mind, this is still very early and we expect those numbers to change significantly in the next 24-48 hours
This Could be a High Impact Storm
We continue to stress that should this storm set up correctly, the snowfall numbers won't be the issue to look at. What will be important is the impact, at the end of the day, does it matter if you get 2 feet or 3 feet of snow if all the roads are closed and you are not able to travel? Nope! This storm is not really 50/50 anymore, it is more like 60/40 leaning towards a significant storm, this confidence should trend upwards with more consistent model runs today.
Use Saturday as your preparation day for these impacts!
A prolonged period of heavy snow and high winds is expected
Roads will become icy and snow packed, roads to our East may become impassable due to drifting snow
Airline cancellations and delays will be very likely
School and business closures will be possible
Travel will become very treacherous at times
Get your errands done today, get to the store and don't leave anything to the last minute. Be prepared! Stay tuned here and we will provide more updates as this storm system evolves. Happy Saturday!