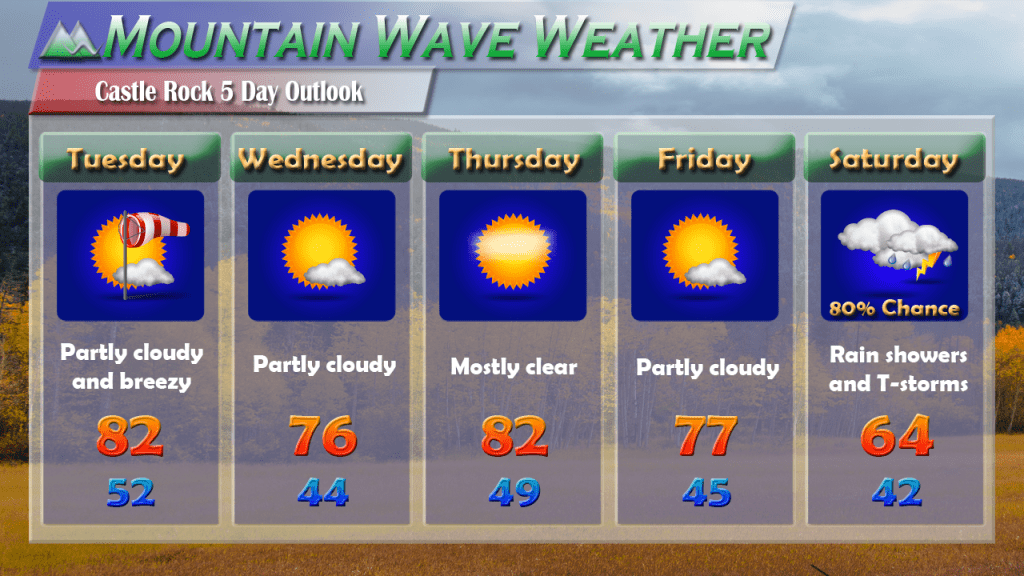 5 Day Outlook Discussion
September has been an absolute scorcher for the Castle Rock area this year and for many areas across Colorado. The good news is that temperatures will continue to drop off slightly the first half of this week closer to seasonal. By the end of the week and into the weekend a strong storm system will begin to impact the area, bringing much cooler temperatures and a good chance for rain across the plains of Colorado.
The mountains however, will have decent chances to pick up snow on Saturday and Sunday. The main accumulation looks to occur late into Sunday and into Monday morning. The GFS 24 hour snowfall model below shows some areas picking up 6-8 inches, but I think this is a tad overdone. Warmer temperatures and melting will most likely mean most areas see a couple inches at most.
Strong Storm System Brings Fall Weather to Colorado
You can see on latest satellite picture a series of fronts and troughs lined up to impact Colorado this week. The cold front off to our North is relatively week and will impact Colorado tonight, bringing our slightly cooler temperatures on Wednesday. Behind it a series of stronger troughs will impact the area into the weekend.
With those series of storms, we will finally see temperatures below average for a few days along with the chances of precipitation mentioned above. So, all in all expect more fall-like weather this weekend and early next week!