Summer has definitely arrived for most of us in Colorado and this weekend will be the biggest sign that the season is in full effect. A lot of areas will be very warm this weekend with some even hitting their first 100 degree temperatures of the year by Sunday!
Castle Rock/ Palmer Divide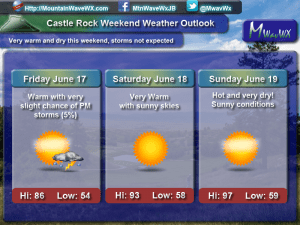 Castle Rock and many areas along the Palmer Divide will experience some of their warmest temperatures of the year over the weekend. Many models have Saturday and Sunday especially warm along this region! The good news is that none of them really have us reaching that 100 degree mark on Sunday, but most have us very close. The general rule of thumb here is elevation will mean a lot; if you live in the higher areas of the Palmer Divide, expect temps mainly to stay in the low to mid 90's.
Other Colorado Areas
No doubt about it, the areas East and Northeast of Denver will be toasty this weekend. The bulk of the high pressure ridge affecting the Western and Midwestern US remains right overhead and means SW winds bringing heat from the Southwest and sinking air in the atmosphere.
The mountains will warm up too, lower valleys in the mountains will see temperatures in the 80's so snow will be melting quickly on the higher peaks this weekend.
Here's a quick look at some of the areas outside of Castle Rock and where they'll end up this weekend:
Fort Morgan Area

Friday: 89/58 – Mainly sunny slight chance (5%) of PM Storms
Saturday: 95/65 – Mainly sunny and warm
Sunday:

100

/63 – Hot temperatures under sunny skies

Limon

Friday: 88/53 – Mainly sunny very slight chance (2%) of PM Storms
Saturday:89/56 – Sunny and warm
Sunday: 96/58 – Sunny and warm

Winter Park/Fraser

Friday: 73/50 – Partly cloudy with a chance (40%) of PM Storms
Saturday:

81

/51 – Sunny and warm
Sunday

81

/53 – Sunny and warm

Woodland Park

Friday: 76/50 – Mainly sunny very slight chance (2%) of PM Storms
Saturday:

83

/51 – Sunny and warm
Sunday

89

/53 – Sunny and warm
Overall Weather Pattern
A strong ridge of high pressure is holding strong over the U.S. The look above at the 300mb (jet stream altitude about 30,000 feet ASL) shows the jet stream well to the North of the Southwestern United states. This is something we typically see in the summer months (although this is a bit early in the year for it) and marks the beginning of a hot and dry period for Colorado.
When I took a look at the models for the upcoming week I saw largely the same pattern lasting throughout with the ridge intensifying and waning a bit but overall staying very strong. This means while we will get a cooler day here and there, cooler will mean low 90's instead of upper 90's. This pattern looks quite strong through the next 7-10 days so keep an eye on a few things:
UV Index will be super high!

Sunburn will happen very quickly, use sunscreen when out for more than 30 minutes or so

Low humidity and breezy conditions will make it very dry

Drink lots of water
Fire danger is increasing very rapidly, especially in the mountain valleys
Have a happy and safe weekend, watch those fires in the hills; don't be the reason our Fire Season starts!