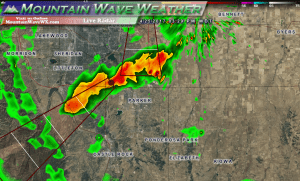 Thunderstorms are moving through the area at this hour and you can see the unusual Northeast to Southwest motion on the radar above. These storms are forming along the leading edge of a storm system expected to move through the area tonight and into Wednesday morning.
In fact, we are keeping an eye on two storm system set to impact the Colorado front range this week. The first, moving in tonight is not expected to be major but many areas will see rain showers, thunderstorms and even some snow over the higher elevations (7,000 feet and higher)
---
Storm # 1 Tuesday Night - Wednesday Morning
This storm is already moving through the area as of this posting, it will bring a chance of rain for most areas, heavier snow will be possible along the higher elevations of the Palmer Divide. This storm doesn't look to have a major impact as far as travel conditions for most areas... those higher elevation areas over and around Monument Hill have the best chance for snow but accumulation looks relatively light at this time.
Forecast and Impacts
Timing
Showers and thunderstorms are likely after 3PM on Tuesday
According to model guidance, highest chance of precipitation is from 3PM - 10PM on Tuesday.
Temperatures will be near to slightly below freezing tonight in and around Castle Rock.
Little to no snow accumulation is not expected in and around Castle Rock at this time. Areas that do see accumulating snow, expect 0-1 inch mainly on grassy surfaces.
Precipitation Accumulations
Castle Rock and Northern Palmer Divide looks to end up right around 0 to 0.2 inches of liquid precipitation

Castle Rock, Pinery, Franktown, Elizabeth, Kiowa

Areas over and near Monument hill may see some snow accumulation in the 1-3 inch range, mainly along the grass. Expect total liquid precipitation slightly higher at 0.2 to 0.4 inches.

Larkspur, Palmer Lake, Monument, Black Forest
Wind/Visibility
With heavier rain under thunderstorms, splash-back may cause some visibility issues.
Impacts
Rain showers will be likely in most areas, some snow may fall in higher elevations South of Denver but is not expected to have major impacts to travel.
Areas with snow may experience tree damage if enough accumulation falls on the branches. This will only be at higher elevations with tree budding occuring.
---
Storm # 2: Watching Closely
There is still a large amount of disagreement with this weekend's storm system, but we can shed light on the details we have at the moment:
Expect snow to fall and even accumulate; models are still very uncertain on just how much snow most areas see but there is a Palmer Divide bias shown as of right now.
The current thinking on time-frame is late in the day Friday, through Friday night, into Saturday morning is the best chance to see precipitation; with snow likely later on Friday night into Saturday morning.
Temperatures along the Palmer Divide look to fall below freezing for several hours on Friday night and Saturday night, keep this in mind if your sprinklers are already turned on!
There is a chance (about 50/50 as of right now) for significant accumulating snowfall Friday night into Saturday morning. We can see significant snow storms in our area well into May, stay tuned for updates here. We will pass along any updates to the forecast as we get them, but be prepared!
---
Several Hard Freezes Possible This Week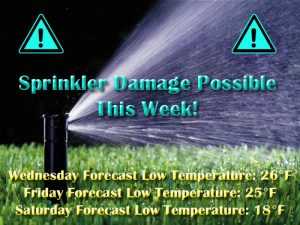 A hard freeze is defined as a period of several hours where temperatures drop below 28 degrees. This can cause damage to senstitive vegetation and above ground sprinkler systems that have already turned on. Keep a close eye on the forecast this week but suffice to say temperatures will be sufficiently cold enough to damage sprinkler systems.
If you already have them turned on, make sure to drain or wrap anything above ground, ground temperatures are warm enough so that everything below ground should be ok!
---
We will have more updates including forecast snowfall totals in the next day or so, stay tuned!