This year Mountain Wave Weather has been approved by the National Oceanic and Atmospheric Administration as a Weather Ready Nation Ambassador. The Weather-Ready Nation Ambassador™ initiative is the National Oceanic and Atmospheric Administration's (NOAA) effort to formally recognize NOAA partners who are improving the nation's readiness, responsiveness, and overall resilience against extreme weather, water, and climate events. What does this mean exactly?
In addition to continuing to severe weather spot and report to NOAA along with speaking at schools and educational programs about severe weather and preparedness, Mountain Wave Weather has been recognized for the following:
Promoting Weather-Ready Nation messages and themes to their stakeholders;
Engaging with NOAA personnel on potential collaboration opportunities;
Sharing their success stories of preparedness and resiliency;
Serving as an example by educating employees on workplace preparedness
Additionally Mountain Wave Weather will strive to:
Provide outreach content about creating a Weather-Ready Nation;
Explore innovative approaches for collaboration with your organization;
Assist with StormReady®/TsunamiReady™ opportunities for communities;
Recognize your organization as a WRN Ambassador; and
Share the WRN Ambassador logo for your use.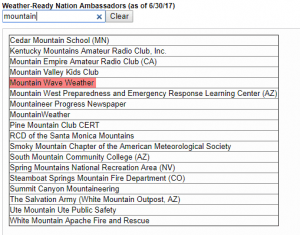 Special thanks to The National Weather Service in Boulder for reaching out to us and the exchange of information over the past few months.

If you have any questions about Mountain Wave Weather or the Weather Ready Nation Program, please let us know here or on our Facebook page!