The good news is that Eastern Colorado looks to have very little impact from snow or cold this weekend. There is a slight chance of snow late Saturday night into Sunday morning, but not all areas will see snow. Those that do will most likely see something in the 0-2 inch range. With one of the busiest travel weekends of the year, folks will have plenty to look out for, especially travelling to Western Colorado or other parts of the country.
---
U.S. and Colorado Travel Trouble Spots
A powerful storm system is beginning to take shape across the Northwestern U.S. and as this system moves into the Great Basin area travelers can expect snow covered roads, icy conditions and wind making visibility low. There is no doubt about it; this will be a very strong storm system, but its positioning will only make for tough conditions int the Western areas of Colorado.
---
By Sunday the storm intensifies and moves Northeast with strong winds, snow and icy mix conditions across the Northern Central United States. Light snow showers will remain in the Colorado mountains but the front range will remain dry. My concern on Sunday is the possibility of strong winds developing in and around the Metro Area and foothills. We'll keep a close eye out for that.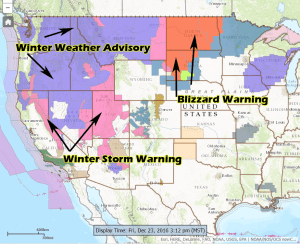 Several winter weather warnings have been issued by the National Weather Service, if you are planning any travel to the affected areas through the weekend it will be worth paying close attention to.
---
For Colorado by Monday, snow showers will remain in the mountains but as the storm lifts out of the area the Eastern Plains will remain dry with a bit of wind. Areas to the Northeast will continue to see strong winds and heavy snow, especially into the Dakotas.
---
Summary
Over the weekend the only areas in Colorado I'm concerned about travel trouble are areas West of the Continental Divde. If you are staying East of the mountains the roads should remain pretty decent and the airport shouldn't have too many issues. I'd keep an eye on Sunday for strong winds to possibly cause a few delays at DIA but overall nothing major.
If you are travelling out of state, the worst trouble areas look to be the Dakotas and Northern Central plains. If you are driving or flying it looks to be a difficult time. Blizzard warnings will cause issues for both air and road traffic in those areas. Some roads may close or become impassible, keep this in mind if travelling with the family in a car.
It will be pretty quite on the site this weekend as I travel and take some time away with family. I hope everyone has a happy and safe Christmas weekend!
Thanks to Accuweather.com for the graphics for this article!