A statistical look and discussion of weather recorded for Castle Rock Colorado. This information was collected and recorded via my weather station in the Meadows in the town of Castle Rock. It is in no way an "official" record, just simply what was recorded by my station.
---
April, 2015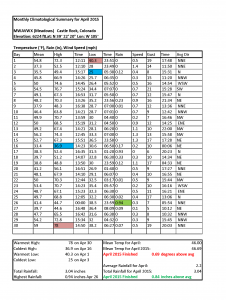 Summary
April 2015 proved to be a very wet month and featured above average temperatures. The mean was just slightly over a half degree above normal. While the daytime temperatures were not particularly warmer than average, the night time lows were quite warm. I credit this to the increased humidity we saw this month, mainly thanks to a soggy weather pattern that soaked Colorado for many days throughout the month. Temperatures take a much longer time to warm or cool when there is so much moisture in the air, I believe our warmer Low's were a result of this.
---
May, 2015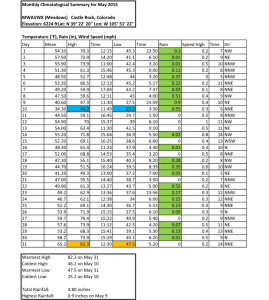 May 2015 showed us everything we expect to see for this month; snow, rain, hail, tornadoes and roller coaster temperatures. The results are in for this month's weather and what a wild ride it was! A quick note: this data will differ from the National Weather Service's data as those readings are taken at DIA. These readings were taken from the Meadows in Castle Rock.
Summary
May this year was a wet and cool month for Castle Rock. We generally see high's average for the month at 69.0 degrees. This year our average high added up to 64.1 degrees which would put us at 4.9 degrees below average! The precipitation we received was another big story for the month, we generally see 2.18 inches of moisture in May while we received 4.8 inches this year.
If you would like to see every day's high and low temperatures along with rainfall days I have a handy chart at of data collected from my weather station in Castle Rock shown above.
---
June, 2015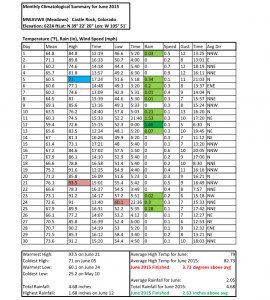 June 2015 Continues Wet Spring/Summer Trend
June 2015 was another wet month as our strengthening el nino setup continued to pump moisture into the state. Notable rain fall was recorded on June 11 and 12 as the remains of Category 5 Hurricane Blanca were pushed up and into Colorado. These two days caused flooding in and around the front range including Plum Creek in Castle Rock. These two days are significant in a weather sense as they may offer us a preview of what our monsoon season could look like as we get later into July and August. Rainfall overall for June was 4.68 inches which is 2.63 inches above average for the month of June.
The high temperature for June 2015 average out at 82.73 which makes the overall temperature about 3.73 over the average. This is a bit warmer than normal but not unexpected as low level moisture was high due to the heavy rainfall in May and the first part of the month. With increased moisture it becomes difficult to cool temperatures down at night, meaning the heating gets a quicker start in the morning. It also goes the other way, with higher moisture in the air it is more difficult to get those much hotter temperatures and you'll notice no 100 degree readings were recorded.
July 2015 Sneak Preview
July is generally our warmest month on average and also begins our transition into the summer monsoon. Being an el nino year we tend to see a cooler and wetter pattern and many long range weather models support this for this year.
A large high pressure blocking pattern has set up over the Northwest which is bringing record temperatures to Washington, Oregon and Idaho.  Where this high pressure system eventually ends up will determine when our monsoon will start and how severe it will be.
The average start date of our monsoon is July 10. Many models do not see the pattern kicking off our monsoon in the first week of July but after that it becomes murky. I would expect July this year to start average with both temperatures and precipitation but shift to a cooler and wetter pattern by the middle to the end of the month. Many indications are at this point that we will have a strong monsoon so be prepared for flooding to return in the latter half of July.
---