The morning outlooks show a slight risk of severe weather along the front range and plains of Colorado today. A front moving through will shift winds to an Easterly component at the surface with Northwesterly winds aloft in the atmosphere. This will allow for increased moisture through upslope flow and a stronger wind sehar profile conductive to rotating severe storms. With cooling aloft behind the front, instability will be much stronger today as well, so severe weather will be possible.
Much like the past few severe weather days, the storms will be widely scattered so there is only a 30-40% chance any area sees severe weather. Any storms that form have the possibility to be severe but most areas will not see storms.
Storm Prediction Center Severe Weather Risk Outlooks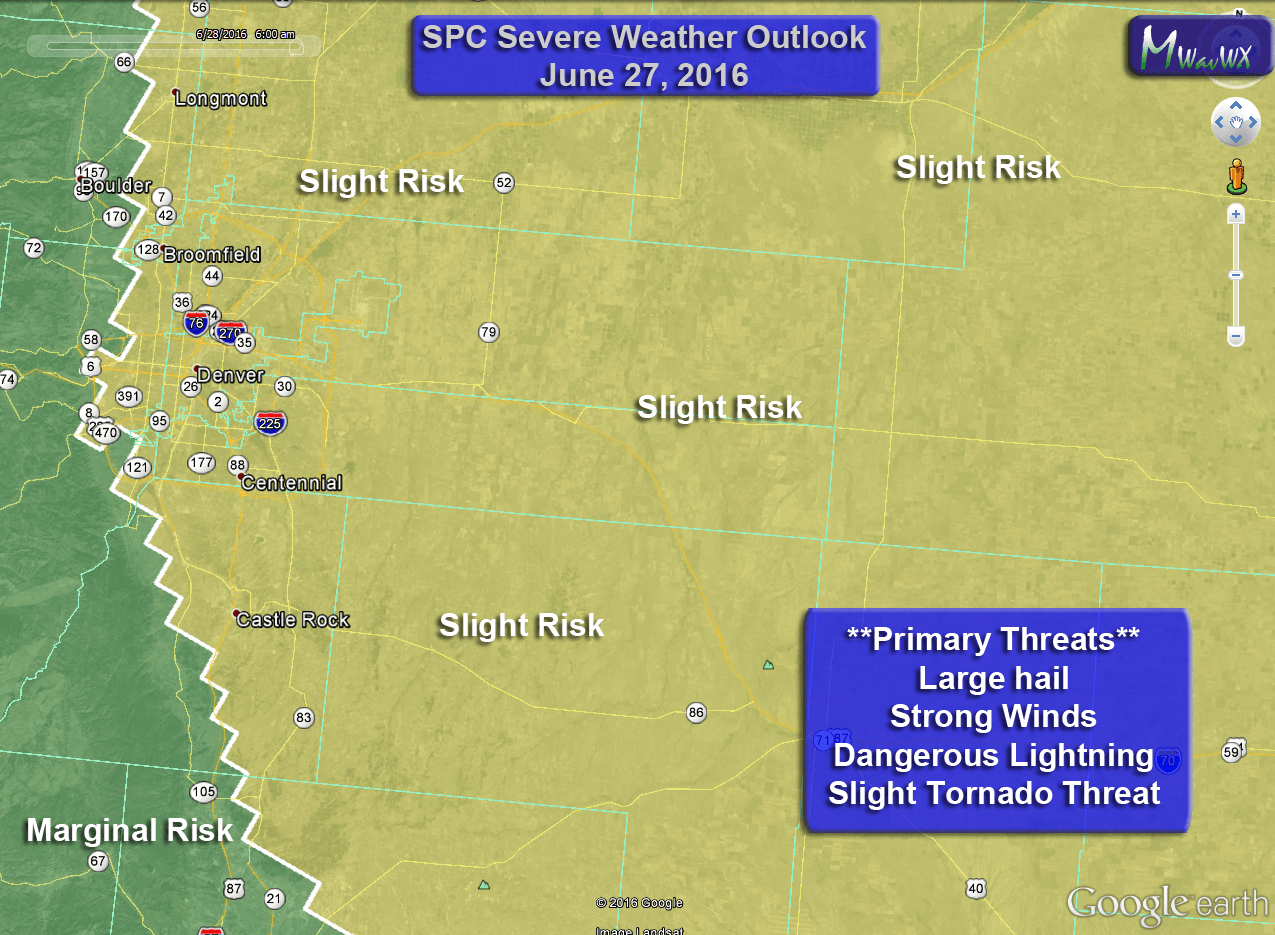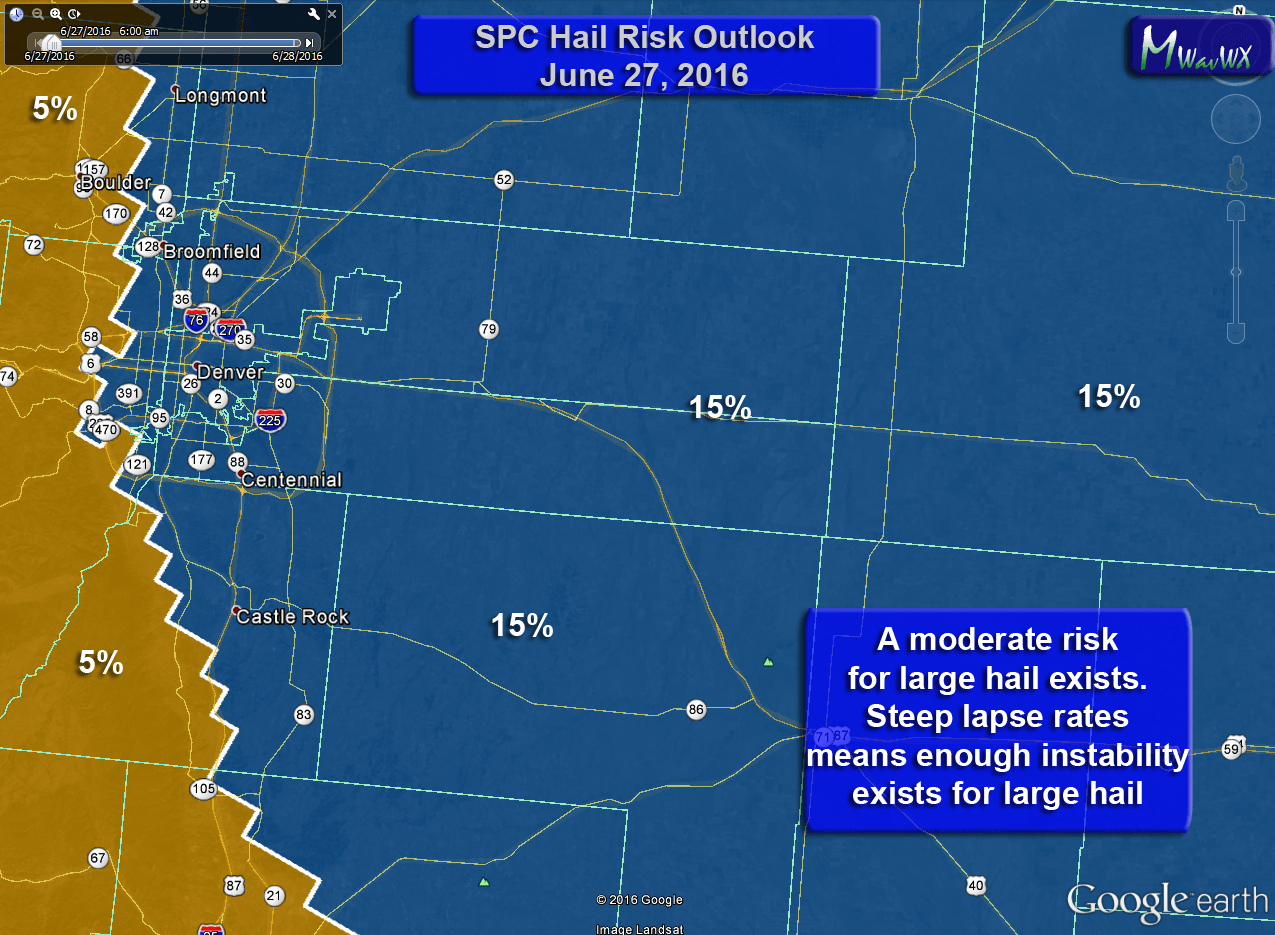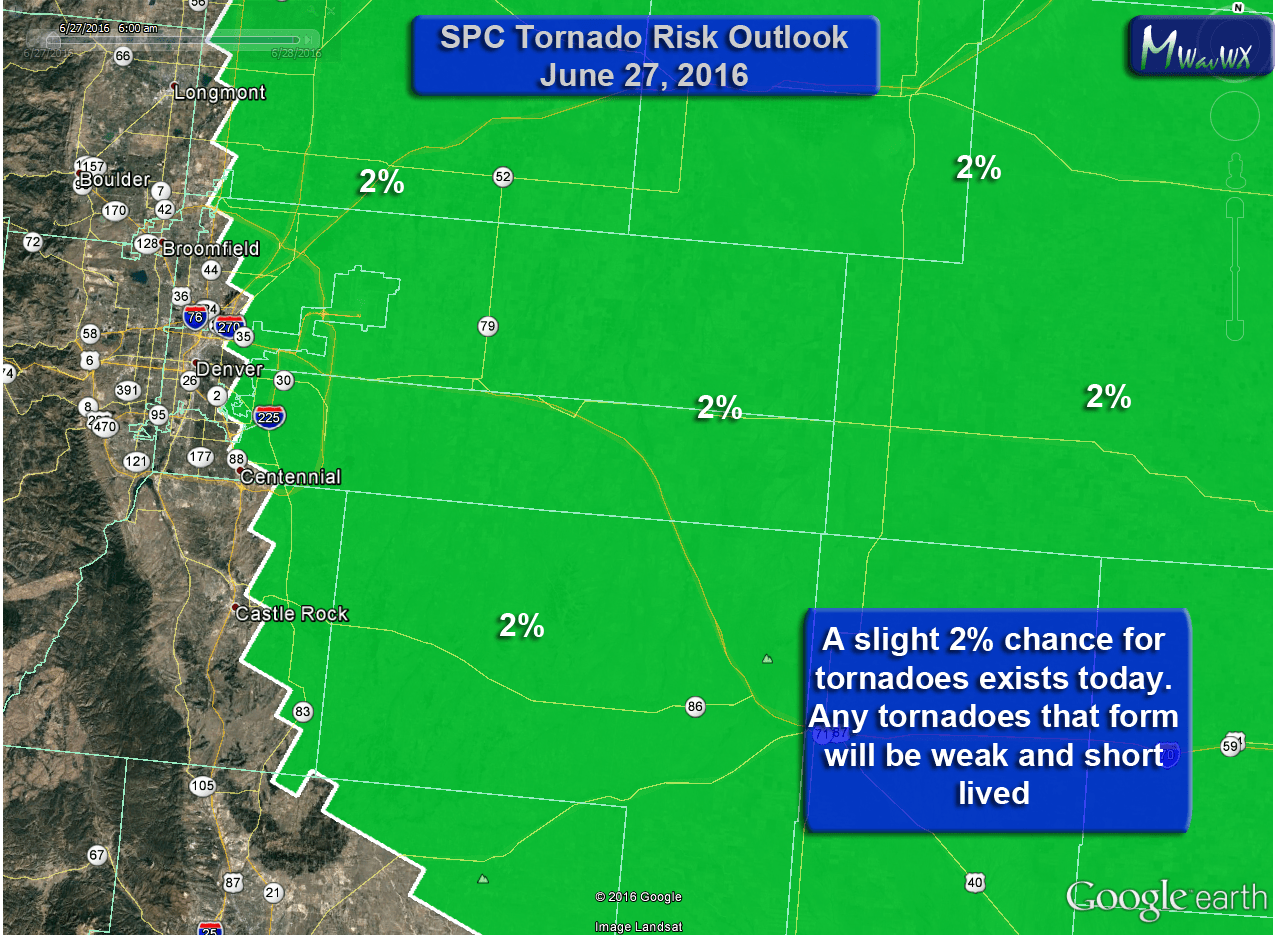 Primary Threats
The most favorable environment for storms to become severe is East of Denver but given terrain and flow in the atmosphere I wouldn't rule out stronger storms over Douglas and El Paso counties through the afternoon:
Hail

Some storms may have larger hail that will cause them to be severe

Wind

Due to the high based nature of the storms, strong gusty winds and micro bursts are possible

Lightning

These storms will be capable of a lot of lightning, keep an eye out!

Tornadoes

Wind shear is ample enough so that these storms may begin to rotate. As such, a slight risk of tornadoes exists for storms today with stronger low level updrafts.
Timing
There is uncertainty between models on the exact timing oif thunderstorm initiation and strength
Thunderstorm initiation

Models mainly  show storms developing around 1-2PM
Storms will begin over the foothills and move East/Northeastward

Front Range Severe Storm Window

1-5PM looks like the most likely time for storms to impact the area
Some models show storms lasting into the overnight hours

Eastern/Northeastern Plains Severe Storm Window

Storms that stay strong enough to move out onto the plains will affect those areas between 4-10PM
There is a higher risk for larger hail and tornadoes for storms on the Eastern and Northeastern Plains.
What to Do/Expect Ahead of Today's Storms
Be prepared to move indoors if you are outside and storms begin to form
If you hear thunder, you can be struck by lightning, don't wait until it's too late!
Take actions to protect property that may be damaged by hail. (cars, plants, etc…)
Keep an eye on local forecasts throughout the day, don't be caught off guard!
Slight chance for tornadoes today, stay weather aware!
I am traveling today so won't be watching the radar and warnings as closely. Keep an eye on the sky and local weather reports.