As recently as one to two weeks ago, most models were showing an abysmal picture for our monsoon pattern in July. Very few models showed any sustained amount of moisture flowing up from the Gulf and it seemed like we were destined for a hot and dry July. While the "hot" part of that view has certainly been the case, the absence of the monsoon has not been the case.
July Has Been Hot So Far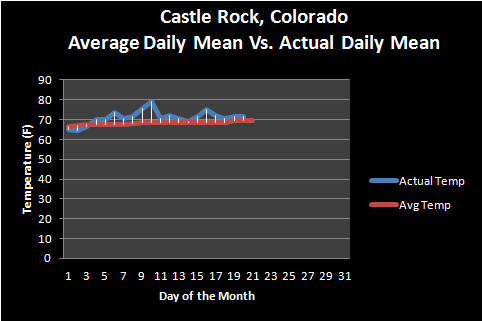 With our hot days and warm nights it's no surprise we're running a bit above average with regards to temperatures. The month as of this writing is about 0.61 degrees above average, this may not seem like  large number but it actually is. July is our warmest month of the year on average, so to be above average for the month takes some serious heat!
Monsoon Pattern Has Set Up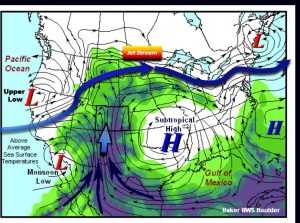 We knew early last week the pattern was calling for a large high pressure system to set up over the middle part of the country and bring incredible heat and dry weather to the region. What the models missed, I believe, is the high pressure ridge setting up a bit further South and East. This allowed Colorado to dodge the worst of the heat but has also allowed monsoonal flow to establish from the Southwest. The counterclockwise flow around the high pressure system has been spinning hot air and moisture into the state for most of the week.
From what I've gathered from some of the mid and short range models, we can expect this pattern to last through next week with differing chances for storms each day. Some days will be a bit drier and some will be a bit wetter, mainly based on how that high pressure system wobbles.
What to Expect Today (Thursday)
In a short sentence: more of the same. We will heat up into the low 90's today so the heat will continue. Just like the last few days we are seeing increased moisture in the air (dewpoints are in the low 50's) which hints at the presence of monsoon moisture still streaming into the state.
The HRRR model shows storms forming after 12-1PM initially along the foothills and moving out onto the plains.
By 8PM we see continued storm activity in the area. I wouldn't be surprised if some areas see more than one wave of thunderstorms through the afternoon and evening hours. As with the past few days the main threats will be gusty winds, lightning and heavy rain.
Taking a quick look at CAPE (instability) and wind shear parameters this afternoon I don't see a lot of evidence for large severe storms in terms of hail or tornadoes. Still, some small hail could be possible but any type of tornado activity looks highly unlikely.
I'll be keeping an eye on the models and radar this afternoon and will pass along any updates on Facebook.