You are signing up for a monthly
MountainWave Weather Peak Supporter

subscription.

Here are the details for signup:
This subscription will be billed monthly at $10.00
You can cancel anytime without any penalty - if you cancel you will be allowed access for the remainder of your billing term (started January 1 but cancelled January 15, will still have access until February 1)
Payments are completed through PayPal under "MountainWave Digital Solutions LLC" , Paypal is secure and handles all transactions... we do not receive or keep your credit card information on this site.
Please make sure read and understand both our Terms of Service and Privacy Policy
Ready to Go? Click the PayPal Button Below to get Started!
---
Need Help?
Here's the step-by-step process for signing up:
1. When you are ready to sign up, click the PayPal button above.

2. If you already have a PayPal Account, enter your e-mail address and password you use to normally  log into PayPal. If you don't have a PayPal account, you can click the "Create an Account" button to create a new account.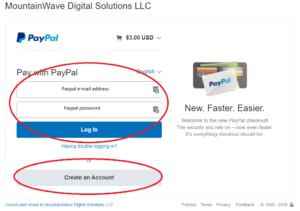 3. Once you've logged into your PayPal account it will ask you to subscribe and confirm, click the button and you should see a confirmation screen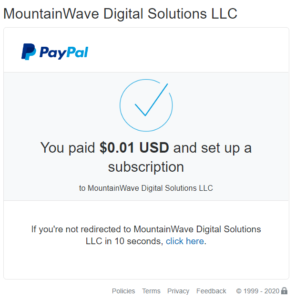 4. After the confirmation screen shows it will redirect you to this page, click "Please Register Now (Click Here) to set up your MountainWave Weather Account on our site.

5. It will ask you to create a username, enter an e-mail address, first name, last name and the city you live in. Once completed click "Register"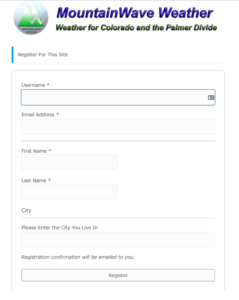 6. Check your e-mail, you will receive an e-mail with your username and a link to reset your password. **Check your spam folder too!**

Click the link to reset your password
7. When you click the link in the e-mail the password setup screen will appear (looks like the one below.) Enter a new password and click "Reset Password"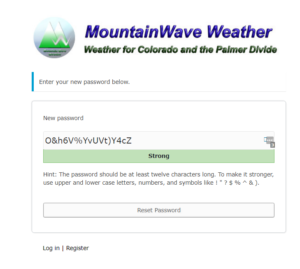 8. Once completed, click the "Log-In" link, you will be prompted for your username and new password

9. When you see the Login Welcome Page, you've made it! This page will list your account details, special content you have access to and will allow you to modify/cancel your subscription whenever you'd like.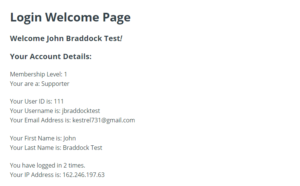 ---
Still Having Trouble?
Use the form below to contact us, we are happy to help!