Latest Hurricane Updates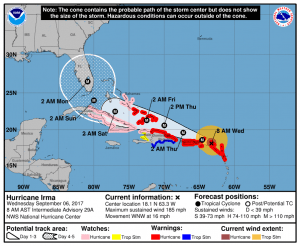 Hurricane Irma is currently a Category 5 Storm with sustained wind speeds of 185 MPH and a forward movement to the WNW at 16mph. The storm is expected to slowly weaken as it moves towards Florida, but will maintain considerable strength overall.
Latest Model Plots and Predicted Path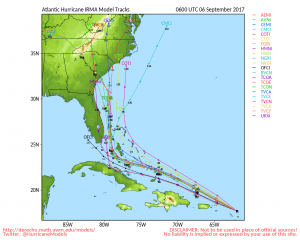 Many models have shifted the Northward turn to the East as of this morning. This means that Florida will still see an impact from a strong hurricane but also means that areas along the Georgia and Carolina coastal regions need to be watching closely as well. If these models verify, those areas could see impacts from the hurricane, please keep in mind models this far out are not super accurate. Use the models as a general guideline as to which areas need to be watching closely and preparing for possible storm impacts.
Areas of Concern
 Florida (statewide but especially the Eastern Coast)
Georgia coastal regions
North Carolina
South Carolina
Due to latest shift in models, the Carolinas and Georgia should be paying close attention to local weather alerts and be ready to start preparing for this storm. Florida residents should already be preparing for the storms arrival sometime this weekend.
Actions to Take When a Tropical Storm or Hurricane Threatens
When a hurricane threatens your community, be prepared to evacuate if you live in a storm surge risk area. Allow enough time to pack and inform friends and family if you need to leave your home.
Secure your home: Cover all of your home's windows. Permanent storm shutters offer the best protection for windows. A second option is to board up windows with 5/8 inch exterior grade or marine plywood, built to fit, and ready to install. Buy supplies before the hurricane season rather than waiting for the pre-storm rush.
Stayed tuned in: Check the websites of your local National Weather Service office and local government/emergency management office. Find out what type of emergencies could occur and how you should respond. Listen to NOAA Weather Radio or other radio or TV stations for the latest storm news.
Follow instructions issued by local officials. Leave immediately if ordered!
If NOT ordered to evacuate:
Take refuge in a small interior room, closet, or hallway on the lowest level during the storm. Put as many walls between you and the outside as you can.
Stay away from windows, skylights, and glass doors.
If the eye of the storm passes over your area, there will be a short period of calm, but at the other side of the eye, the wind speed rapidly increases to hurricane force winds coming from the opposite direction.
Things to Remember After the Storm Leaves
Continue listening to a NOAA Weather Radio or the local news for the latest updates.
If you evacuated, return home only when officials say it is safe.
Once home, drive only if necessary and avoid flooded roads and washed-out bridges. If you must go out, watch for fallen objects in the road, downed electrical wires, and weakened walls, bridges, roads, and sidewalks that might collapse.
Walk carefully around the outside of your home to check for loose power lines, gas leaks, and structural damage.
Stay out of any building if you smell gas, if floodwaters remain around the building, Â if the building or home was damaged by fire, or if the authorities have not declared it safe.
Carbon monoxide poisoning is one of the leading causes of death after storms in areas dealing with power outages. Never use a portable generator inside your home or garage. Review generator safety.
Use battery-powered flashlights. Do NOT use candles. Turn on your flashlight before entering a vacated building. The battery could produce a spark that could ignite leaking gas, if present.