A statistical look and discussion of weather recorded for Castle Rock Colorado. This information was collected and recorded via my weather station in the Meadows in the town of Castle Rock. It is in no way an "official" record, just simply what was recorded by my station.
---
October, 2015

October 2015: No Snow Recorded Much Warmer and Wetter than Average
October finished warmer than normal, about 2.26 degrees above average for the Castle Rock area. We generally see snowfall in October to the tune of about 4.2 inches, but no snowfall was recorded during the month.
Not to say it wasn't wet, several large rain storms amounted to a total of 1.23 inches of precipitation. This is not unusually high but it did push the month above normal. It was unusual not to receive any snowfall but given the much above average temperatures, it is not surprising.
---
November, 2015

November 2015: Slightly Cooler but Much Wetter than Average (Snowfall)
A quick look at the temperatures this month shows that Castle Rock continued to have wild swings between warm and cold, at least for the first half of the month. As we made it to the second half of November we saw increased storm systems begin to affect us, meaning colder temperatures overall.
The month of November finished about 1.29 degrees below average. This is a bit unusual given that fall months during El Nino patterns tend to feature warmer than average weather.
The overall mean temperature for the Castle Rock area was measured at 33.81 degrees. (This is an average of daily high and low temperatures.) I imagine that not all areas in and around Denver will mirror this, some areas might have finished warmer than average. Measuring temperatures in and around the Palmer Divide in the winter time can be tricky as cold air inversions can make stations only a few miles apart register very different numbers.
The precipitation I measured at my station actually came in below average for the month. A quick note about this: as I do not have a heated rain collector on my station, it often takes a couple of days for that moisture to register.
You can notice the gap at the end of the month; there are several inches of snow at my house but as it has been below freezing for several days, none of that has been collected.
This is just something we have to deal with a bit in winter time here in Colorado. A much more accurate look at what happened this month can be seen when adding up the snowfall totals.
Snowfall finished well above average precipitation count not withstanding. This is somewhat expected and unexpected at the same time. In El Nino patterns we expect to see an uptick in snowfall for October. This was exactly the case this year, however it tends to tail off and dry out significantly into November and December.
Castle Rock saw several storms impact the area and deposit decent amounts of snow. Storms range from 2-4 inches to 4-8, to 6-12 inches. Terrain played a big part in these storms so amounts varied significantly over relatively small geographic areas.
Since El Nino falls are typically snowier, this was not entirely unexpected, but rarely do we see large amounts of snow into November with these patterns.
December 2015 Sneak Preview
 
The climate prediction center's 30 day outlook for December is shown above. I agree completely with both predictions in this case, based on what I have seen looking at some of the medium and long range models. Many of the shorter term models have us staying pretty close to average for first 7-10 days of the month.
Remeber, these images show the chances of being above or below average, not of being average. So the temperature prediction says there is an equal chance of being below or above average, not that it will be average.
The precipitation prediction I generally agree with but I think we will wait to see any of this materialize until the middle to second half of the month. Ridging has started again for the first part of the month and that should keep any larger storm systems from impacting the state.
So in summary:
Equal chances for temperature to be above or below average for December. I think it should be only slightly higher or lower than average overall (and I lean towards the higher than average based on previous El Nino December setups.)
First 7-10 days of December will be drier and a bit warmer.

During this period we may get one or two small disturbances but large snowstorms look unlikely.

Middle of December expect possibility of a weather pattern change

Some models are picking up on some sort of change, it's just too far out for specifics.

Second half of December could be unsettled

Given the short term outlook with the CPC, if the month of December has a higher chance of finishing wetter than average, this will have to materialize the second part of the month.
---
December, 2015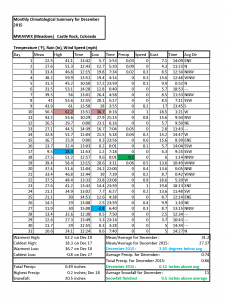 December 2015 Continues with El Nino Weather Pattern
December featured a lot of weather that we would expect in a winter month during a strong El Nino event. The month featured above average precipitation, above average snowfall and much below average temperatures. You can see from the December preview in my November 2015 post, the CPC called both the precipitation quite well and the temperatures as well.
By the latter half of the month, the storms decreased in intensity and we begun to enter a quieter period of weather commonly called a "lull." This is typical during stronger El Nino events; after a wet and soggy start in fall we see a drier and quieter period as we get into the heart of winter. Again, this is not unexpected: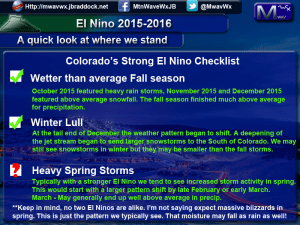 As you can see, we've checked off two things on our El Nino checklist this year. The big question that remains is will we go 3 for 3?
If this pattern continues to perform as expected, we should see a major weather pattern shift sometime in February or early March. Considering everything seems to be running a bit late this year, we could see this pattern shift later into March as well.
Strong El Nino events feature stormier, wetter weather in the spring as the jet stream (usually pushed south of Colorado in winter time) begins to migrate North.
This can mean increased probability of a stronger storm system or series of storms to affect Eastern Colorado. Only time will tell, but I expect January to be a quieter month overall. We should see a few storm systems but I don't anticipate any large storms like we say the past couple of months.
---
 January - March, 2016 -->